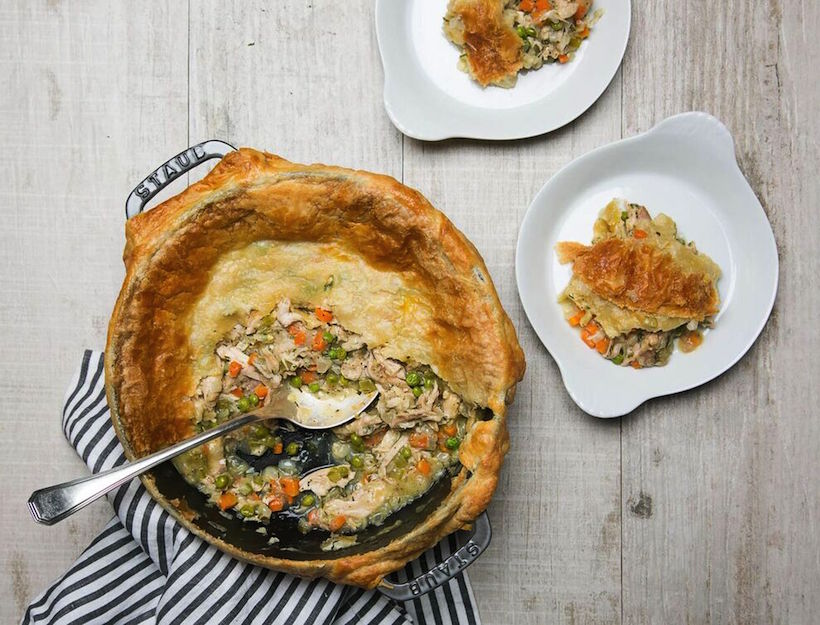 We can't think of anything more comforting than chicken pot pie on a winter night, but amid the craziness of the holidays, roasting a chicken and making pastry from scratch are out of the question for most of us. For this "cheats" version, we use rotisserie chicken and frozen puff pastry—that way you keep your sanity and put an impressive (and always very popular) dinner on the table.
1. Preheat the oven to 400°F.
2. Heat the butter in a 2¾-quart Dutch oven until melted and beginning to foam. Add the onion, carrot, celery, garlic, and herbes de Provence and sauté for 10 minutes, until vegetables have softened and are starting to brown.
3. Add the flour and cook 1 to 2 minutes, stirring constantly with a wooden spoon.
4. Add the chicken stock and cook, stirring, until the sauce has thickened and is the consistency of a puréed vegetable soup (about 7 to 10 minutes).
5. Turn off the heat and stir in the frozen peas, chopped parsley, and shredded chicken. Taste for seasoning, adding salt and pepper as needed. Set aside to cool (if the pan is too hot, the pastry will melt and won't adhere properly).
6. While the pan cools, lightly flour a clean work surface and unfold the puff pastry sheet. Roll the sheet out so that you can cut a 12-inch circle (feel free to eyeball this—just be sure the circle is large enough that it will hang over the edge of the Dutch oven by at least 1 inch).
7. In a small bowl, whisk together the egg and water.
8. Brush this egg wash over the outside edges of the cooled Dutch oven to help the dough stick. Carefully place the circle of dough on top of the Dutch oven and press the overhanging edges against the pot.
9. Using a sharp knife, cut a few slits in the top of the puff pastry, and brush the entire pastry shell with the egg wash so that it browns nicely.
10. Place the pot pie on a baking sheet and pop in the oven for 30 minutes, or until the pastry is browned and the filling is bubbling.
Originally featured in Quick One-Pan Dinners