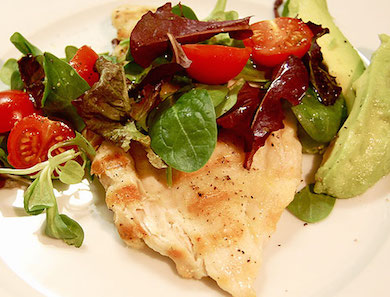 Despite the fancy name, Chicken Paillard is one of the simplest dishes to make. Pair with a simple salad for a healthy and satisfying meal.
1. Place the cutlets between two pieces of parchment paper, cling wrap, or plastic.
2. Grab a heavy pan and pound the cutlets with the bottom until they are about a quarter of an inch thick. Season the cutlets with salt, pepper and a light dusting of flour.
3. Coat the bottom of a skillet with olive oil and bring to medium high heat. Cook cutlets about 2-3 minutes on each side until browned and cooked through, but not dry.
4. Plate the chicken and dress with lemon.
5. Place sliced avocados over or on the side of the chicken.
6. Spoon Simple Salad over the top.
Originally featured in Beyond Valentine's