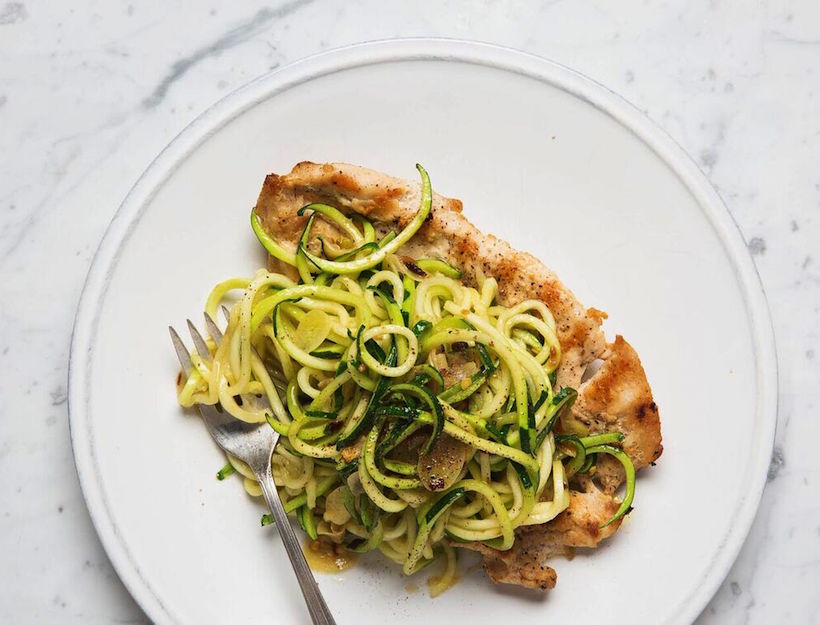 Chicken Paillard with Zucchini Noodles
This is so good, we happily chow down on it even when we're not detoxing. These noodles would be yummy on their own or with any other protein as well (e.g., grilled salmon).
1. Brush the chicken paillard with a little olive oil and season generously with salt and pepper.
2. Heat a grill pan over medium-high heat. When the pan is very hot, add the chicken and grill for about 3 minutes on each side (depending on thickness).
3. While the chicken cooks, heat a medium sauté pan over medium-low heat. Add 2 tablespoons olive oil plus the anchovies, chili, and garlic, and cook for 1 to 2 minutes, or until the anchovies have begun to melt and the garlic smells fragrant. Add the zucchini and lemon zest and season with salt and pepper. Cook the zucchini noodles until warmed through and just tender, about 2 minutes, tossing to combine all ingredients.
4. Top the grilled chicken with sautéed zucchini noodles and garnish with fresh basil if desired.
Originally featured in Detox Guide