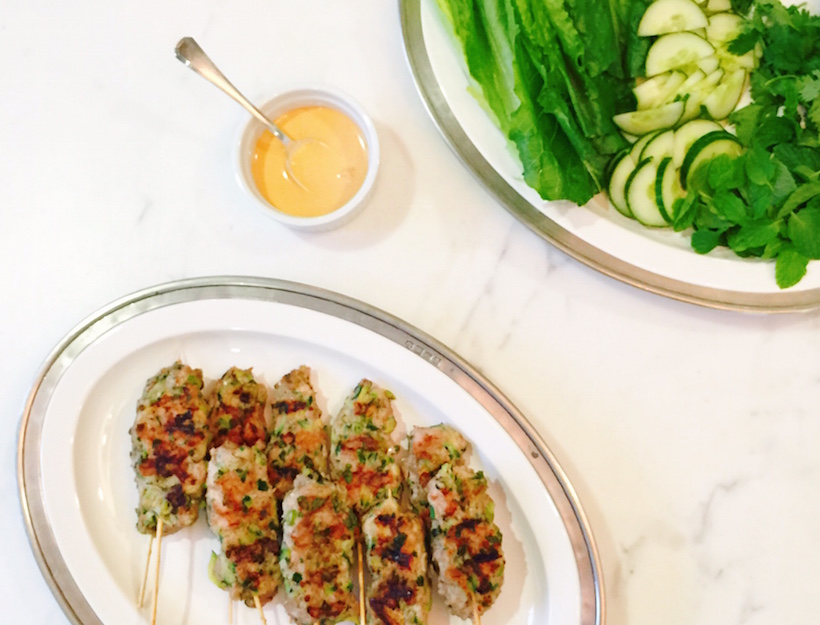 These Middle Eastern kebabs are light but filling and have great depth of flavor from the mix of fresh herbs and dried spices. Wrap each kebab in a lettuce leaf with cucumber and fresh herbs. You can make a quick sauce to serve with these by combining tahini, lemon juice, water, salt, minced garlic, and cayenne pepper.
1. Grate the zucchini, combine with ½ teaspoon salt, and let sit 5 minutes. Squeeze out as much liquid as possible.
2. Mix the zucchini and the next 11 ingredients together in a large bowl. Divide the mixture into 12 pieces, then with damp hands, shape around 12 soaked skewers.
3. Heat a grill or grill pan to medium-high, brush the kebabs with a bit of oil, then grill for 8 to 10 minutes on each side, or until cooked through.
4. Serve on a platter with whole lettuce leaves, cucumber, cilantro, and mint.
Originally featured in The Annual goop Detox