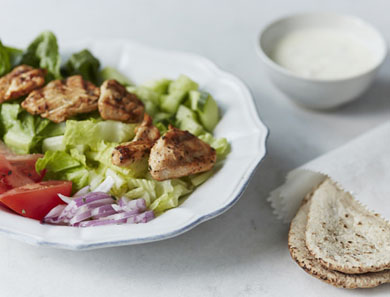 Chicken Gyro Salad
Inspired by the super-tasty classic Greek gyro, we marinate and then grill chicken strips and serve over tomato, onion, cucumber salad with pita 'croutons' and tzatiki dressing for a lighter, healthier version.
2 organic boneless, skinless chicken breasts, sliced into thin strips
1 head romaine lettuce, washed & dried
½ red onion, sliced
2 small-medium ripe red tomatoes, sliced
2 pitas
2 small cucumbers, chopped
2 large cloves garlic
1-2 lemons
dried oregano
paprika
olive oil
sea salt
freshly ground pepper
for the dressing:
½ small cucumber, minced
1 large clove garlic
1 small container Greek yogurt
1 lemon
olive oil
sea salt
freshly ground pepper
1. Place chicken strips in a container with a lid. Crush garlic and place over chicken. Season with salt, pepper, oregano and tiny bit of paprika for color. Squeeze over the juice of half a lemon and drizzle enough olive oil to form a paste with the seasonings. Mix to coat with your hands (wash hands thoroughly!). Cover and marinate for a few hours or overnight.
2. To make the tzatziki dressing: shave or grate one clove of garlic into a small bowl with the minced cucumber. Add the yogurt and the juice of a whole lemon. Drizzle in about 3 tablespoons of olive oil while whisking. Add salt and pepper to taste. Set aside.
3. To make the pita croutons*: pre-heat oven to 375°F. Brush the pita with olive oil and sprinkle with salt and pepper. Arrange on a baking sheet and place in oven for about 5 minutes on each side until they begin to harden. Remove from oven, let cool and break into pieces.
4. Heat a grill pan over medium-high heat. Add chicken strips in a single layer and cook for about 3 minutes on each side, pushing down every so often with a fork to really get a nice char going, until golden brown and cooked through. Set aside.
5. Chop lettuce and place into a large bowl. Add tomatoes, onions, cucumbers and pita chips. Season with salt and pepper. Top with chicken strips, drizzle as much dressing as you like and mix to serve.
*Note: You can also skip the pita croutons if you're low on time and just serve with some fresh pita bread.
Originally featured in Gooping Street Food