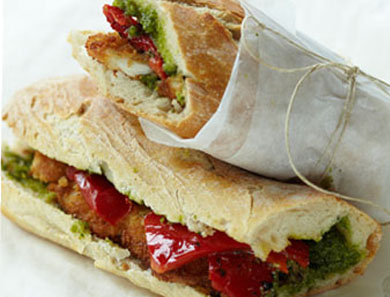 Chicken Cutlet Baguette with Roasted Peppers & Pesto
A simple and hearty sandwich with incredible flavor.
1. Place chicken breasts between two pieces of plastic wrap or baking pepper. Pound the chicken until about half an inch thick. Season with salt & pepper.
2. Place milk in a shallow bowl and the flour and breadcrumbs on two separate large plates. Dip the chicken in the flour (a light dusting) then into the milk and finally dredge in the breadcrumbs, tapping off an excess.
3. Coat the bottom of a large frying pan with olive oil, about ½ inch deep, over medium high heat. When the oil is hot enough to sizzle carefully place the chicken breasts in the oil. Cook for about 3 minutes on each side, until lightly browned and crisp. Remove and season to your liking.
4. Slice the baguette in half lengthwise, and slather an even amount of pesto on both sides. Lay the cutlets evenly on top and add as many peppers as you like. Close and slice in half on a bias.
Originally featured in London Picnic