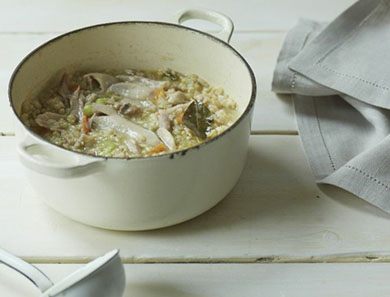 Chicken and Brown Rice Soup
A healthy spin on the classic chicken noodle, our chicken and brown rice soup is just as comforting, but gluten-free and elimination-diet-friendly.
½ chicken, separated into 4 parts
1 cup brown rice
1 small onion, chopped
1 medium carrot, sliced
1 stalk celery, sliced
2 cloves garlic, chopped
1 bay leaf
5 cups water
2 chicken bouillon cubes
sea salt
freshly ground pepper
olive oil
1. If you can, soak the brown rice overnight. If you can't, give it a good rinse and proceed.
2. Wash and dry the chicken pieces and season well with salt and pepper.
3. Place a large saucepan over medium-high heat. Coat the bottom of pan with a thin layer of olive oil. Add the onion, carrot, and celery. Cook for about a minute until the vegetables soften. Add the garlic and bay leaf. Cook for another minute until the garlic softens. Add the chicken pieces skin side down and let the skins lightly sear among the veggies. (You don't need a formal sear for this soup, as you will be tearing the meat off later on and discarding the skin, but it's still nice to get some of the flavor out of the skin via this method.)
4. Add the brown rice, water, and bouillon cubes and bring to a simmer. (Simmering the chicken in the water will create a pretty flavorful broth, and the bouillon just amplifies the taste.) Simmer for about 45 minutes, stirring occasionally, until the rice is cooked and the chicken is falling off the bone. Remove from heat.
5. When cool enough to handle, remove the chicken pieces from the soup. Using your hands or a fork and knife, tear the meat from the bones. Discard the bones and add the meat back to the soup. Stir (reheat if desired) and serve.
Originally featured in One Pan Meals