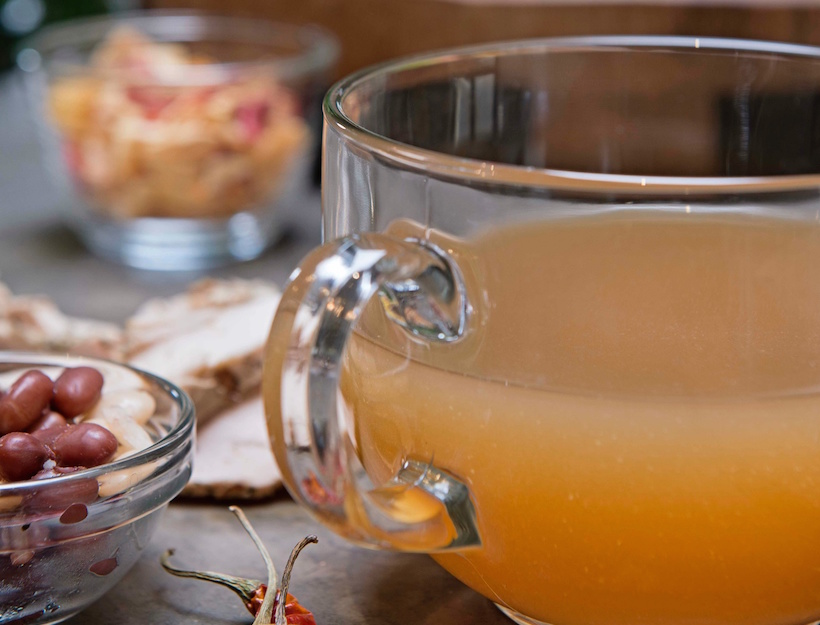 Chicken Broth
"Chicken bone broth is one of the oldest healing traditions in the world and is best known for its protection against colds and flus. Studies have also shown that it may reduce joint pain and inflammation while regenerating hair, skin, bones, and nails. It doesn't get more soothing than this."
1 pound, 6 ounces of chicken bones (we use a combination of gelatin-rich chicken shoulders and feet)
1 to 2 tablespoons balsamic vinegar
1 tablespoon extra-virgin olive oil
½ medium yellow onion, roughly-chopped
¼ cup fennel (stalks and fronds are great to use here), roughly-chopped
¼ cup carrots, roughly-chopped
¼ cup celery, roughly-chopped
1½ teaspoons sea salt
1 bunch parsley
1 (1‑inch) piece of kombu
1. Place the bones in a large pot and cover with 9 cups of water. Add the balsamic vinegar and bring to a boil.
2. While the water is coming to a boil, heat the olive oil over medium heat in a large sauté pan. Add the onion, fennel, carrots, and celery, and cook for 5 minutes.
3. Add the onion mixture to the pot when the water boils, along with the sea salt, parsley, and kombu.
4. Reduce the heat to a simmer and cook for at least 4 hours or for as long as 6 hours.
5. Using a colander or sieve, strain all the liquid from the solid pieces. Discard the solid pieces.
6. Refrigerate the broth overnight. When you remove it from the fridge, remove as much of the fat cap as you like.
Learn more about bone broth benefits.
Originally featured in Make Ahead Soups