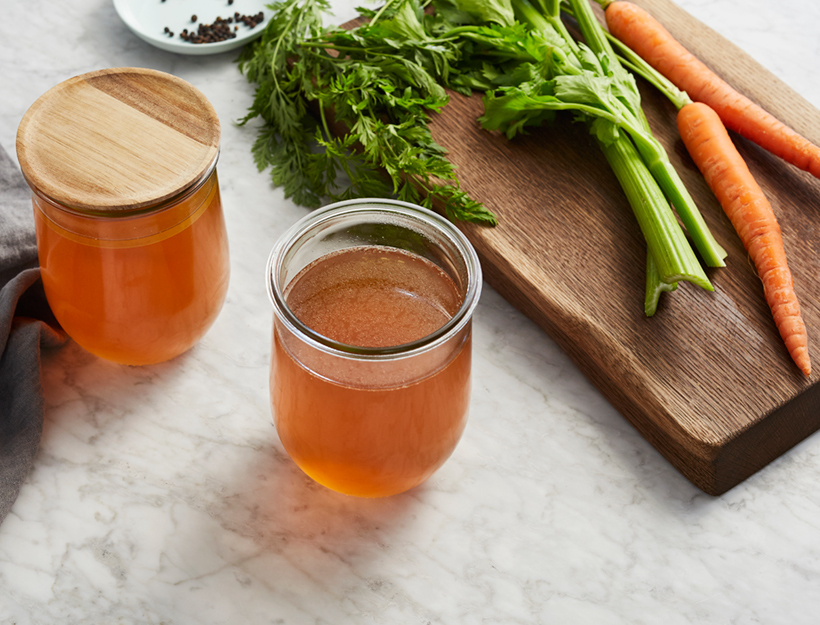 Chicken Bone Broth
This versatile broth is great for sipping, making soups, or using in any recipe that calls for chicken stock. Be sure to use the best quality organic chicken you can find.
½ an organic chicken
1 stalk celery, cut into thirds
1 yellow onion, cut in quarters
2 medium carrots, cut in half
4 cloves garlic
2 star anise pods
1 3-inch piece ginger, sliced
½ bunch cilantro
1 tablespoon apple cider vinegar
10 cups water (or enough to cover all the ingredients)
1½ teaspoons kosher salt
20 black peppercorns
1. Combine all ingredients in a crockpot and cook on low heat for 6 hours. Remove meat from chicken, shred, and store until ready to use.
2. Return the chicken bones to the crockpot and cook for 4 more hours.
3. Strain, cool, season to taste with salt, and store in the fridge.
Learn more about bone broth benefits here.
Originally featured in The Annual goop Detox 2017