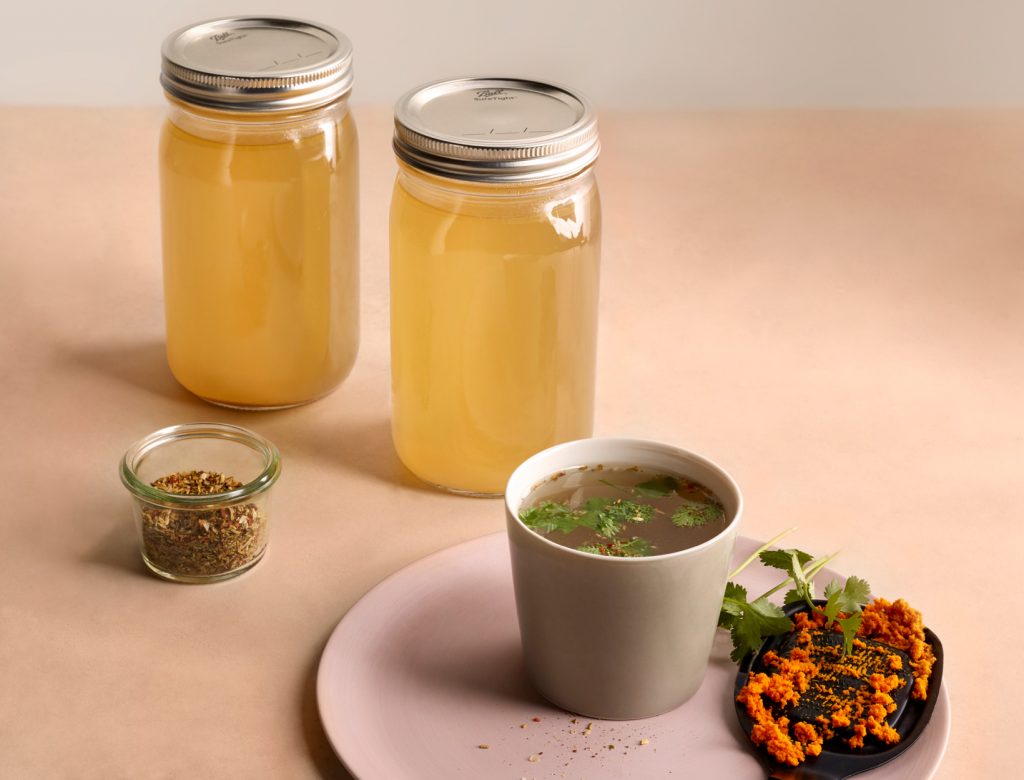 Bone broth is a perfect breakfast alternative if you love something savory in the morning. Goodman suggests adding collagen powder, fresh cilantro or parsley, and turmeric or ginger for extra flavor. Make a big batch like this for a several-day supply, and use any extra in soups or for cooking grains.
1. Place the chicken backs and feet in a 3-gallon stockpot (or similar size) and add the filtered water and the vinegar. Cook over medium heat for a minimum of 1 hour to allow the vinegar to leach the minerals out of the bones. Bones should be fully covered; you can add additional water if needed.
2. While chicken sits in the water-and-vinegar bath, prepare the vegetables.
3. After 1 hour, add the crushed garlic, diced carrots, diced onion, diced celery, whole peppercorns, bay leaf, and sea salt and bring to a boil. Once it boils, you will need to skim the brownish foam from the top and discard (especially in the first 10 to 15 minutes of boiling).
4. Reduce the heat to a low simmer and cook for minimum of 16 to 18 hours, but no more than 24 hours. During the last 20 minutes or so of cooking, add a bunch of parsley for additional flavor and minerals.
5. Remove from heat. Carefully remove the larger bits of chicken and veggies and discard. Then, using a cheesecloth or a mesh strainer, carefully strain the broth into a container of your choice. For an additional collagen benefit, add ½ cup Further Food collagen powder.
6. Portion into 12-ounce Mason jars and store in the freezer for 2 months or keep in the fridge in an airtight container for up to 1 week.
7. Enjoy the broth warm or add finely chopped parsley or cilantro, Herbamare seasoning, and 1 tablespoon of fresh juiced turmeric or fresh ginger.
Learn more about bone broth benefits.
Originally featured in A 3-Day Summer Reset