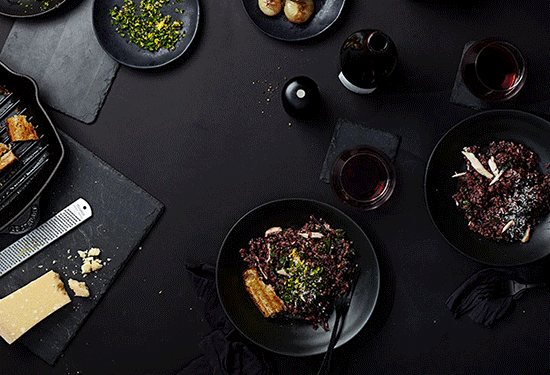 Chicken + Beet Green Pilaf
This is a great way to make a no-fuss meal out of leftovers.
for quick chicken broth
chicken carcass with wings attached (if you carved the breasts and legs of the bird for the two recipes above—you can also use any leftover chicken bones)
1 carrot, roughly chopped
1 medium white or yellow onion, roughly chopped
2 bay leaves
salt and pepper to taste
for pilaf
2 cups chicken broth
1 cup wild rice
2 shallots, chopped
2 garlic cloves, minced
greens from one bunch of beets (about five beets)
1 lemon, to garnish
Parmesan, to garnish
olive oil
salt and pepper to taste
1. To make the broth: Place the chicken in a large pot and add just enough water to cover the top (about 3 to 4 cups). Add the carrot, onion, bay leaves, and a pinch of salt and pepper and bring to a boil over medium-high heat. Reduce heat to medium and simmer for about an hour. Let cool and remove the carcass. Strain the rest of the stock and set aside.
2. In the same pot over medium-high heat, drizzle just enough olive oil to coat the pan and add the shallots. Let cook for about a minute until fragrant and translucent. Add the garlic and cook for another minute until soft. Add the rice and cook for a minute, mixing with all the other ingredients. Finally, add two cups of broth, lower heat to medium, cover, and cook for about 30 minutes until the rice has absorbed almost all the broth. Add the beet greens and stir. Cover and cook for another five minutes or so until the rice is cooked through. Remove rice from the heat and leave covered for about five minutes to rest.
3. Uncover the rice and fluff with a fork. Also with a fork, shred the remaining meat from the carcass: If you cut the chicken into three parts, there should be all the wing meat plus anything else still on the bones. Add the shredded chicken to the rice. Season with salt, pepper, Parmesan, and lemon zest to taste.
Photography by V.K. Rees.
Originally featured in One Bird, Three Ways