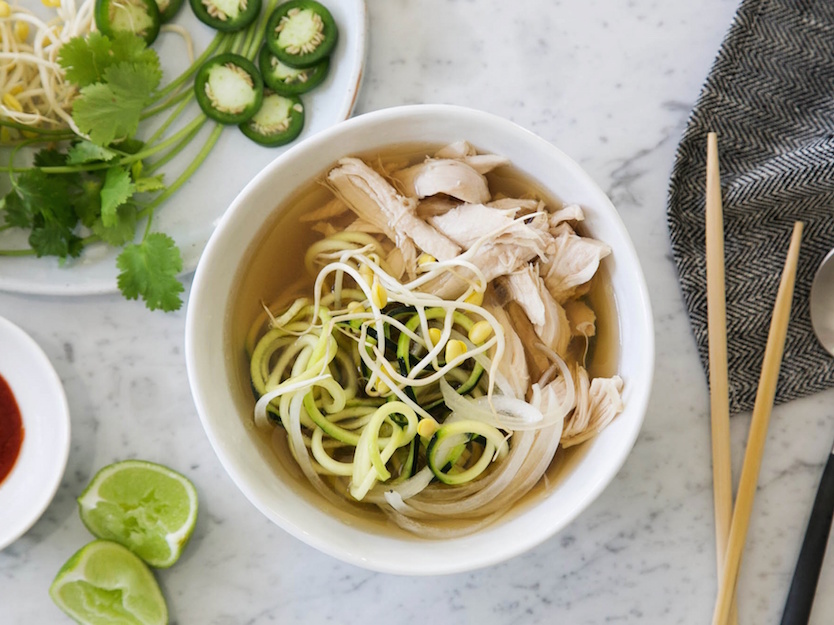 Chicken and Zucchini Noodle Pho
This is crazy good. It's healthy, it's quick to throw together, and you won't even miss the rice noodles. Promise.
4 cups chicken stock
2 cups water
1 bone-in skin-on chicken breast
8 cilantro stems
1 3-inch long piece ginger, sliced
3 garlic cloves, smashed
salt
juice of 1 lime
1 tablespoon maple syrup
1 tablespoon soy sauce
½ small white onion, very thinly sliced
1 zucchini, spiralized
for garnish:
1 small serrano chili, sliced
8 cilantro stems
4 sprigs fresh basil
1 handful mung bean sprouts
1 lime, quartered
1. Combine chicken stock, water, chicken, cilantro stems, ginger, garlic cloves and a large pinch of salt in a medium saucepan; the chicken should be just covered. Bring the liquid up to a boil, lower to a simmer, and poach for ten to fifteen minutes, or until completely cooked through.
2. Remove the chicken breast, shred the meat, and return the carcass to the saucepan. Simmer on low for 10 minutes while you prep the other ingredients. After ten minutes, strain the stock, return to the saucepan, and add the lime juice, maple syrup, soy sauce, and sliced onion. Taste for seasoning and add salt if desired.
3. Divide the spiralized zucchini and shredded chicken between two bowls. Ladle over the hot liquid, and serve with fresh herbs, chili, lime wedges, and sprouts on the side.
Originally featured in Screw Everything