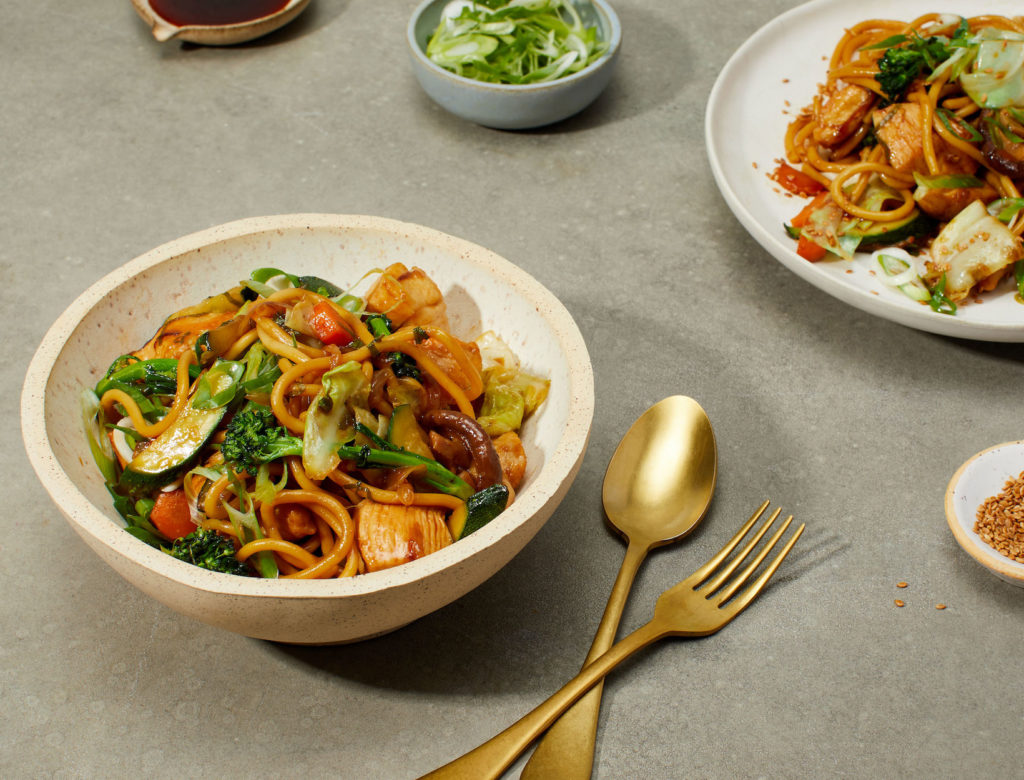 Chicken and Veggie Noodle Stir-Fry
For the last dinner of our annual detox, we always try to create a recipe that uses up your leftover produce from the week. This year, we went for a simple stir-fry with veggies, chicken, and a gluten-free noodle. Once you cook your noodles and prep your sauce, this comes together quickly in a wok. Top generously with sliced scallions and congratulate yourself on day five.
1. First cook the pasta in boiling water until al dente—a few minutes less than the box directs. Drain and toss with a little avocado oil, then spread out and let cool on a sheet pan.
2. Combine the ingredients for the sauce in a small bowl and set aside.
3. In a wok or a large, wide skillet, heat a few tablespoons of avocado oil over medium-high heat. Add the chicken and cook, stirring often, until fully opaque and cooked through, about 8 minutes. Remove from the pan and set aside.
4. Add a little more oil to the pan and add the onions. Cook for a few minutes until the onions begin to brown, then add the mixed veggies. Stir often, until the mixed veggies are just tender; you want them to retain a bit of bite and not be mushy. Then add back the chicken and noodles and crank up the heat slightly, tossing constantly so everything comes together.
5. Add the sauce and toss well for a few more minutes, allowing the sauce to coat all the ingredients. Remove from the heat and top with sliced scallions.
Want to try the goop detox but cook less (and add in superpowders to support liver and digestive health)? We've got you: Try our G.Tox 7-Day Reset Kit.
Originally featured in The Annual New Year Detox: 2022 Edition