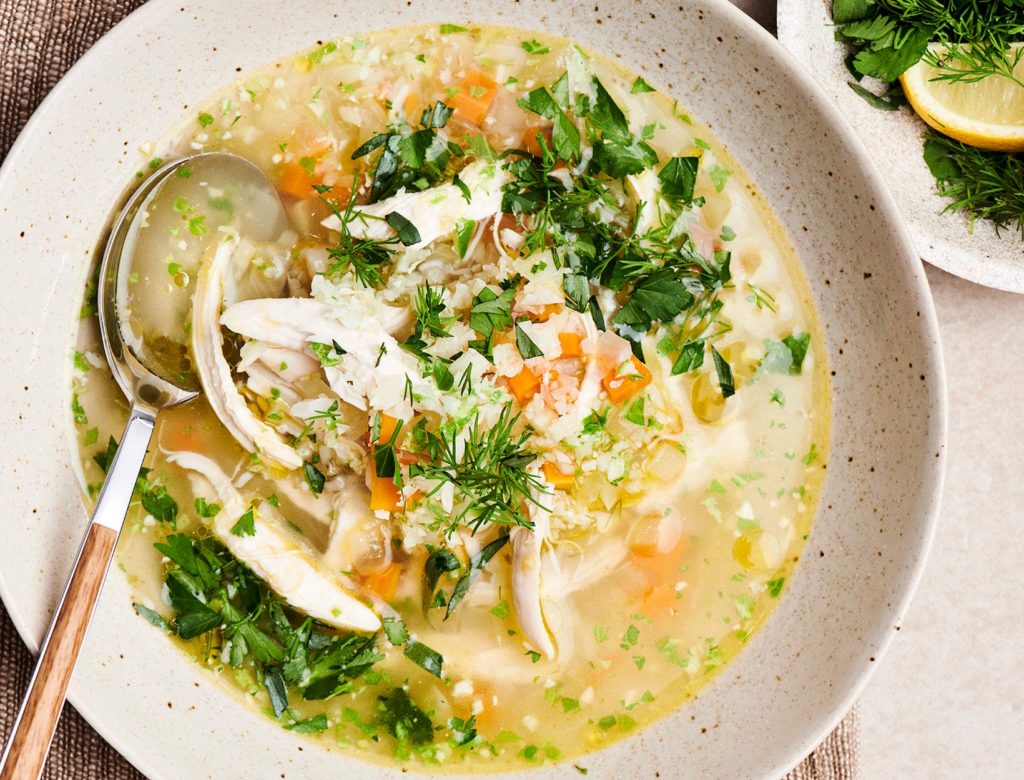 Chicken and Cauliflower Rice Soup with All the Herbs
Our detox version of a classic chicken and rice soup is lighter and brighter, but it still comforts. Finishing the soup with lots of herbs and fresh lemon juice is key, so don't skip it.
3 tablespoons extra virgin olive oil
1 onion, diced
4 cloves garlic, roughly chopped
2 carrots, diced
½ bulb fennel, diced
2 quarts chicken stock
2 cups cauliflower rice (about ½ head)
2 cups cooked shredded chicken
2 lemons, in wedges
any combination of fresh parsley, tarragon, dill, cilantro, and mint, roughly chopped
1. Heat the olive oil over medium heat in a large pot. Add the onions and garlic and a pinch of salt. Sauté for about 5 minutes, until fragrant and translucent. Add the carrots and fennel. Sauté for another 5 to 10 minutes, until tender. Add the chicken stock and bring to a boil, then reduce to a simmer. Add the cauliflower and chicken 5 to 10 minutes before serving, just to heat the chicken through and gently cook the cauliflower—it should be al dente.
2. Ladle into bowls, top with lots of herbs, and squeeze a few lemon wedges over the top.
Originally featured in The Annual 5-Day Detox