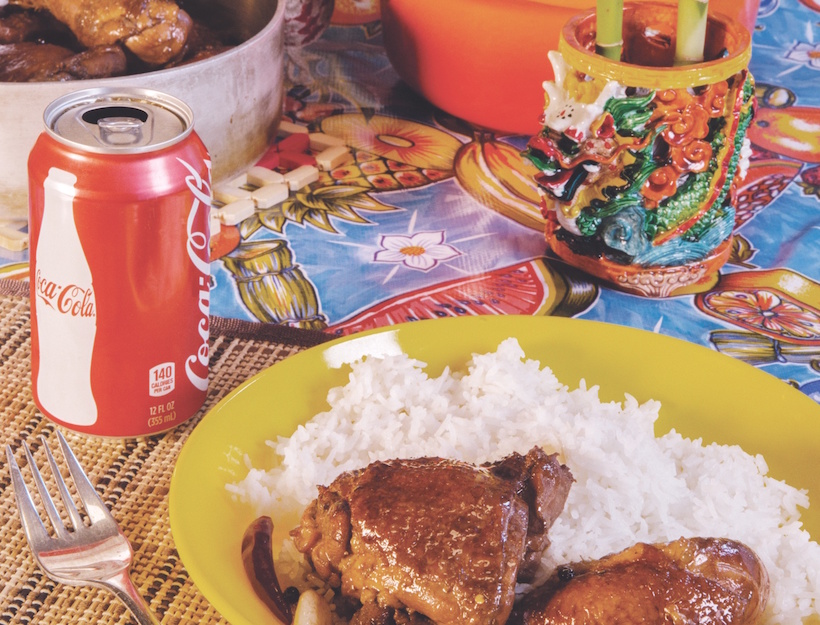 The skin on this magical chicken is so tender and silky—don't even think about not eating it.
1. Pour the coconut milk, soy sauce, and vinegar into a large, lidded skillet and toss in the peppercorns, bay leaves, garlic, and chilies (if using). Bring to a simmer over medium-high heat. Add the chicken pieces, snuggling them into a single layer; the sauce should come about three-quarters of the way up the pieces. (If it doesn't, add more water.)
2. Return the sauce to a simmer, then cover the pan and reduce the heat to maintain a gentle simmer. Cook the chicken until the meat is very tender, right before the stage where it falls off the bone (you still want to be able to pick them up without falling apart, but barely) and the skin is melty, 45 minutes to 1 hour.
3. Remove the chicken pieces and continue simmering the sauce, over medium-high heat, until it reduces by half and the sauce thickens a little/turns syrupy/coats a spoon, about 5 minutes. The flavor should be concentrated but not overpoweringly salty/sour.
4. At this point, you can eat the chicken adobo. Or you can place the legs on a foil-lined baking sheet and broil them on high heat for 5 or so minutes, until the sauce glazes the skin and becomes a little bit crusty. Or, you can store the sauce and chicken separately for up to 3 days. Reheat the chicken in a 400°F oven or under the broiler. However you serve the adobo, have plenty of warm white rice on hand to soak up the sauce.
Originally featured in The Lucky Peach Cookbook is Great: A Few Of Our Favorite Recipes