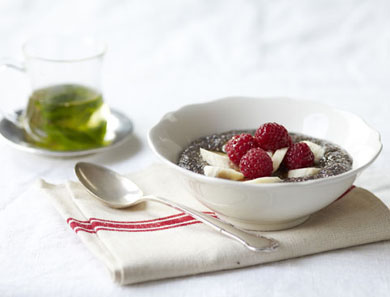 "Pudding? For breakfast? Sounds like a dream come true! Just make sure yours is made out of chia seeds, which are packed with omega-3 fatty acids, lots of fiber and calcium. Not quite a pudding-in-the-morning person? Then add chia seeds to your smoothies – the seeds expand in liquid and help you feel fuller longer."
1. Place the chia seeds in the water (either warm or cold, whichever you prefer).
2. Stir, stir, stir!
3. Let the concoction sit in the fridge for 10 minutes and it will form a "pudding-like" consistency.
Top your chia pudding with some blueberries, bananas and shredded coconut for a yummy, fast and filling breakfast.
Contributed by Dr. Frank Lipman.
Originally featured in A Better Breakfast