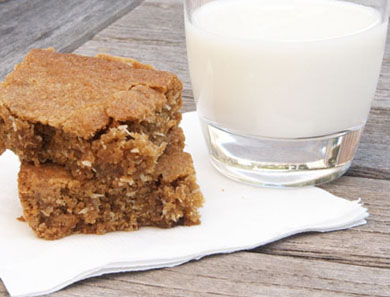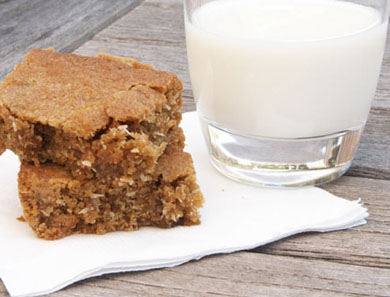 Chef Kate's Blondies
This recipe has to be the least healthy ever to be included in goop. Butter and sugar GALORE but you know, you only live once. I didn't even really know how good a blondie could be until I tried this one. These yield tons of squares so they are ideal for a bake sale. The ingredients are pretty decadent so out of curiosity, we did a calorie count: 160 calories a piece, if you cut them into 60 squares. Not too shabby.
2 cups (4 sticks) unsalted butter at room temperature
1 1/2 cups granulated cane sugar
1 1/2 cups dark brown sugar, firmly packed
4 large eggs
1 tablespoon + 1 teaspoon pure vanilla extract
4 1/2 cups unbleached, all-purpose flour
1 teaspoon fine sea salt
1 teaspoon baking soda
2 cups shredded unsweetened coconut
1 1/2 cups peanut butter chips
1 1/2 cups mini marshmallows
1. Preheat the oven to 350ºF.
2. Using an electric mixer (counter-top or hand-held), cream together the butter and sugars. Add the eggs, one at a time, mixing well after each addition. Add the vanilla.
3. In another bowl, whisk together the flour, salt and baking soda. Add the flour mixture to the butter mixture in three parts, combining well after each addition. Using a wooden spoon, fold in the coconut, peanut butter chips and marshmallows (it's an arm workout).
4. Using a rubber spatula, spread the batter evenly in a nonstick or parchment-lined standard cookie sheet (12″ x 18″) with a 1″ rim. Bake for 15 minutes, cover loosely with a piece of aluminum foil and bake for an additional 12 minutes.
5. Let cool completely and then cut into 60 squares; they will be soft and chewy on the inside.
Recipe courtesy of Chef Kate.
Originally featured in The Cookie