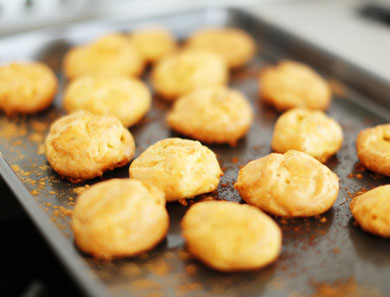 Perfect for holiday predinner bites, these cheese puffs seem impressive and taste delicious but are surprisingly easy to make.
1. Preheat oven to 425°F. Butter 2 large baking sheets and sprinkle with a dusting of flour.
2. In a medium saucepan, combine the water, butter, garlic, salt, and pepper. Over medium-high heat, bring the mixture to a boil and then add the flour, stirring vigorously with a wooden spoon until the mixture forms a smooth ball. Continue stirring for about 2 minutes more, until you see a film forming over the bottom of pan, then remove from heat. Add the mustard and eggs, one at a time. Mix well to combine, then add the cheese and mix again.
3. Using a teaspoon, scoop up the batter and drop spoonfuls onto the baking sheets, giving them enough space to cook and expand, about an inch or two apart. Bake for about 20 minutes.
Originally featured in Holiday Recipes from Michael Kors