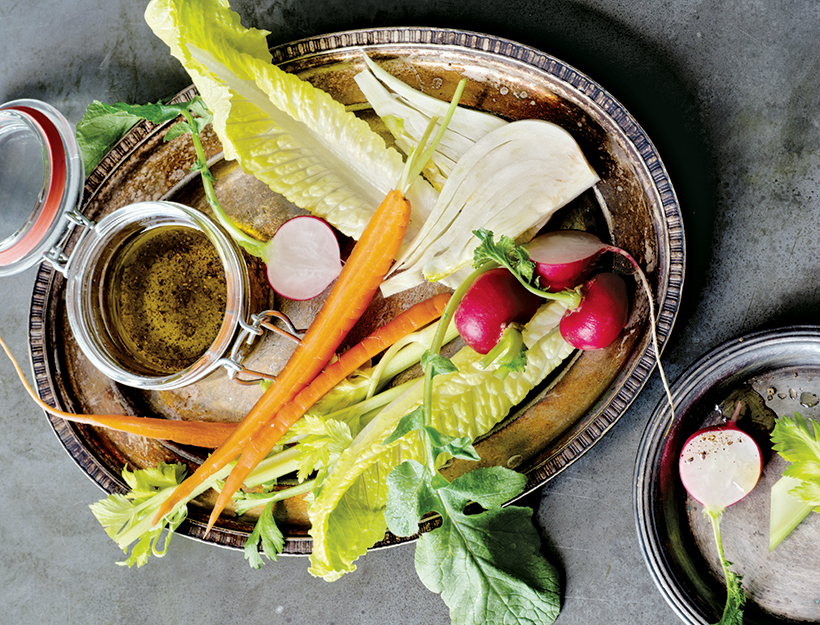 Cazzimperio
Cazzimperio (also known as pinzimonio or crudités) pretty much sums up Rome's relationship with raw vegetables. Elsewhere, you might be served carrot sticks or celery stalks with a thick, creamy dipping sauce. Not in Rome. Here, the only accompaniment is a good, green olive oil from nearby groves. Cazzimperio is best enjoyed with extra virgin olive oil from the Sabina, an area in northern Lazio known for its sensational oils, but you can substitute any good-quality unfiltered extra virgin olive oil with rich flavor and a clean finish.
¼ cup extra virgin olive oil
¼ teaspoon sea salt
¼ teaspoon freshly ground black pepper
3 carrots, quartered lengthwise and cut into 4-inch sticks
3 stalks celery, sliced in half lengthwise and cut into 4-inch sticks
1 romaine lettuce heart, leaves separated
2 bulbs fennel, thickly sliced
12 radishes
1. In a small bowl, combine the olive oil, salt, and pepper.
2. Arrange the raw vegetables on a serving platter. Serve with the seasoned olive oil alongside.
Reprinted from Tasting Rome: Fresh Flavors and Forgotten Recipes from an Ancient City. Copyright © 2016 by Katie Parla and Kristina Gill. Photographs copyright © 2016 by Kristina Gill. Published by Clarkson Potter/Publishers, an imprint of Penguin Random House LLC.