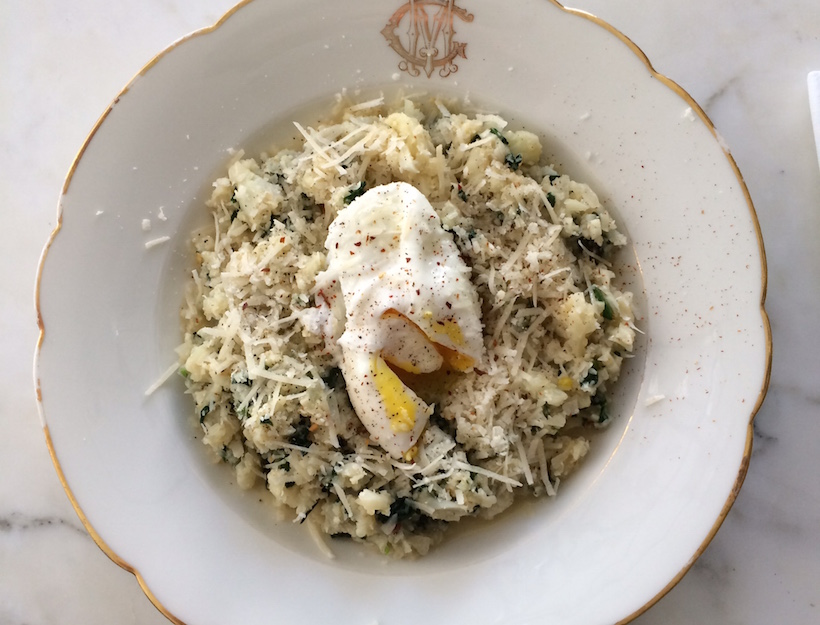 Cauliflower and Spinach "Risotto"
Cauliflower is a great stand-in for rice in this grain-free version of risotto.
1/3 cup white onion, very finely minced
1 tablespoon unsalted butter
1 garlic clove, very finely minced
1/4 head cauliflower
salt & pepper to taste
chili flake
½ cup very tightly packed baby spinach leaves, thinly sliced
1/3 water + extra as needed
½ cup parmesan cheese + extra for garnish
1 teaspoon lemon zest
poached egg
1. Break cauliflower into florets and pulse in a food processor until it's all the size of couscous (about 5-10 times for 1 second each time).
2. Meanwhile, combine butter and onion in a small dutch oven and sauté over low heat, partially covered, for about 5 minutes, or until translucent and tender.
3. Add 1 ½ cups cauliflower "rice," garlic, a good pinch of salt, and a pinch of chili flakes. Turn the heat up to medium high, and cook until garlic is fragrant and cauliflower is just beginning to brown.
4. Add spinach and water and cook for a minute or two, until most of the liquid has evaporated.
5. Stir in ½ cup parmesan and the lemon zest and season to taste with salt and pepper. Add water 1 tablespoon at a time as needed to achieve a slightly creamy consistency.
6. Garnish with a poached egg and extra parmesan cheese.
Originally featured in 4 Healthy Dinner Ideas You Can Actually Make During the Week