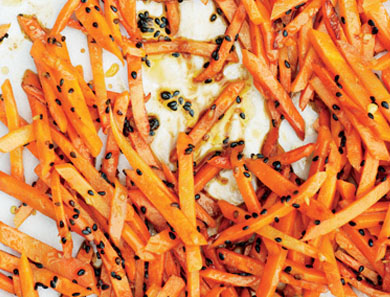 Carrots with Black Sesame + Ginger
Good hot, at room temperature, or cold, this dish is a beautiful way to treat fresh, sweet carrots.
Elimination Diet (substitute a pinch of salt for the soy sauce) | Vegan
2 tablespoons extra virgin olive oil
2 teaspoons finely minced fresh ginger
4 large carrots cut into matchsticks (about 4 cups)
Coarse sea salt
A couple of drops of hot toasted sesame oil
1 teaspoon soy sauce
1 tablespoon toasted black sesame seeds
1. Heat the olive oil in a large nonstick skillet set over high heat. Add the ginger and cook, stirring it into the oil, until it becomes fragrant, just 30 seconds or so. Add the carrots and stir to combine them with the gingery oil. Add a big pinch of salt and ¼ cup of water and turn the heat down to medium-high. Cook until the carrots just begin to soften and the water evaporates, 4 to 5 minutes. Stir in the sesame oil, soy sauce, and sesame seeds and serve.
From It's All Good by Gwyneth Paltrow and Julia Turshen.
Originally featured in It's All Good