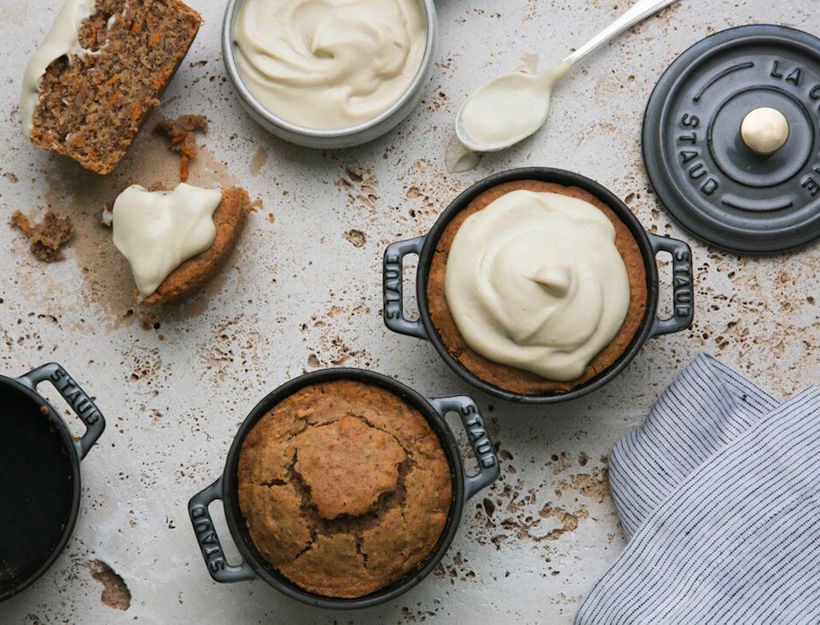 Carrot Cake with Cashew Frosting
Rejoice! A gluten-free, dairy-free, soy-free carrot cake that actually tastes great.
1. First, make the frosting. In a blender or food processor, blend all ingredients until smooth, adding water as needed, and put in the refrigerator until ready to use.
2. Preheat oven to 350°F and lightly grease a small (8-inch by 4-inch) loaf pan or 8-inch round cake pan.
3. In a bowl, mix together the almond milk, maple syrup, oil, applesauce, vanilla, and apple cider vinegar. Set aside while preparing the dry ingredients. If adding the coconut oil, make sure the wet ingredients are at room temperature to prevent the oil from hardening.
4. In another bowl, whisk together the flours, flax meal, chia seeds, baking powder, baking soda, cinnamon, and salt.
5. Pour the wet ingredients over the tray and stir until just combined. Then fold in the carrots and walnuts (or other nut of choice).
6. Pour into loaf pan lined with parchment paper and bake for about 50 minutes (40-45 if using a cake pan), or until you can slide a knife into the center and it comes out clean. Remove pan from oven and let cool before transferring the loaf from pan to wire rack. Let cool completely (at least 1 hour), frost, slice, and serve!
Originally featured in Marco Borges and His 22-Day Revolution