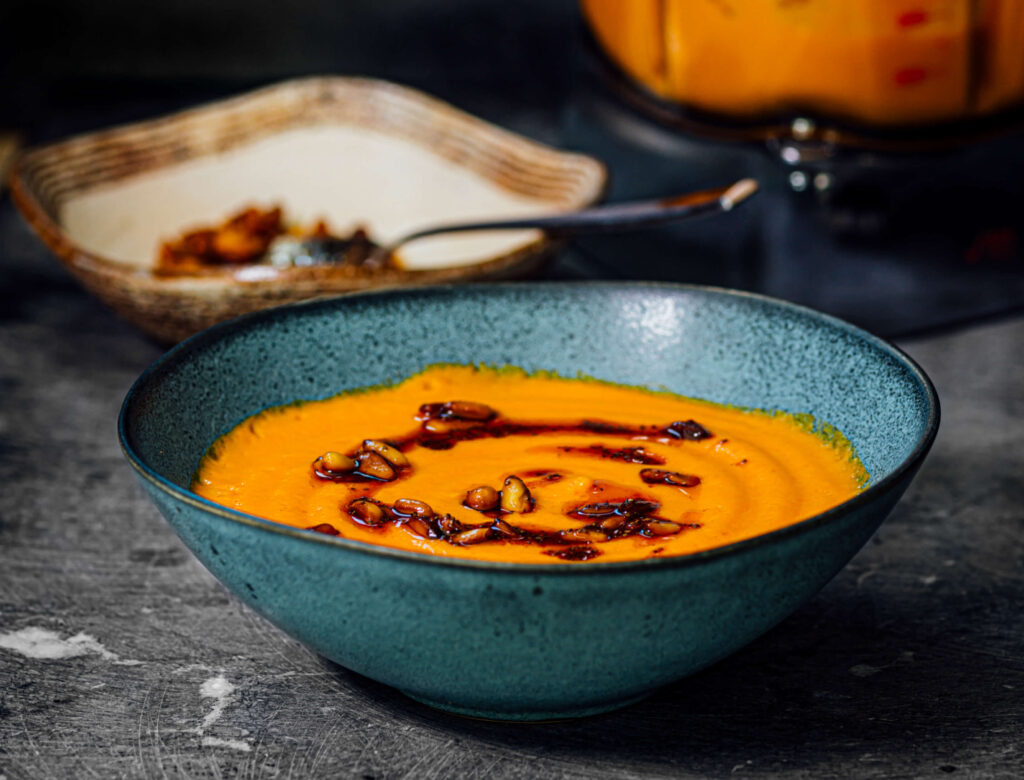 Carrot, Apple, and Harissa Soup
Harissa is a hot and spicy aromatic condiment made from chilies that originated in North Africa. In this carrot soup, it walks in like Mariah Carey at a concert and shakes everyone up with a spectacular reverberation of flavor that can be felt all the way through. The roasted apples round out the flavor of the carrots with their tart and sweet notes. Toasted buttered slices of sourdough are a worthy sidekick here.
1. Preheat the oven to 400°F [200°C].
2. In a large bowl, combine 1½ pounds (680 grams) carrots, trimmed and peeled, sliced diagonally into ½-inch (13-millimeter) thick slices (about 4 cups); 1 large (7¾ ounces [220 grams]) Granny Smith apple, peeled, cored, and sliced into 1-inch (2.5-centimeter) wedges; 1 tablespoon extra virgin olive oil; ½ teaspoon fine sea salt; and ¼ teaspoon baking soda. Spread on a baking sheet and roast until golden brown and tender (a knife should be able to pierce through the carrots and apples with minimal resistance), about 25 minutes.
3. While the carrots and apples are roasting, prepare the topping for the soup. In a small saucepan or skillet, warm 2 tablespoons extra virgin olive oil over medium-high heat. Add 2 tablespoons sunflower seeds or pine nuts, ½ teaspoon celery seeds or caraway seeds, and flaky salt and fry until the sunflower seeds turn golden brown, 1½ to 2 minutes. Remove from the heat and place in a heatproof bowl. Add ½ teaspoon smoked sweet paprika and stir to coat.
4. Transfer the roasted carrots and apples to a blender or food processor. Add 3½ cups (830 milliliters) water, 2 tablespoons fresh lemon juice, 1 tablespoon peeled minced fresh ginger, and 1 teaspoon harissa paste.
5. Blend until smooth and velvety. Taste and season with fine sea salt. The final volume should be about 6 cups (1.4 liters); if needed, add more water.
6. Pour the blended soup into a medium saucepan and warm over medium heat. When ready to serve, top each bowl with a sprinkle of the sunflower seed mixture and serve hot or warm. Leftovers can be stored in an airtight container in the refrigerator for up to 3 days.
THE COOK'S NOTES
• If you like the fragrance of roses, try rose harissa here. It gives a wonderful mild aroma of roses to this soup. New York Shuk makes an excellent rose harissa seasoning.
• Roasting the apples and carrots with baking soda helps soften them and bring out their bittersweet flavors by accelerating caramelization and the Maillard reaction.
Excerpted from Veg-Table: Recipes, Techniques + Plant Science for Big-Flavored, Vegetable-Focused Meals by Nik Sharma. © 2023. Published by Chronicle Books. Photographs by Nik Sharma.
Originally featured in Cozy Vegetable-Forward Recipes from Nik Sharma