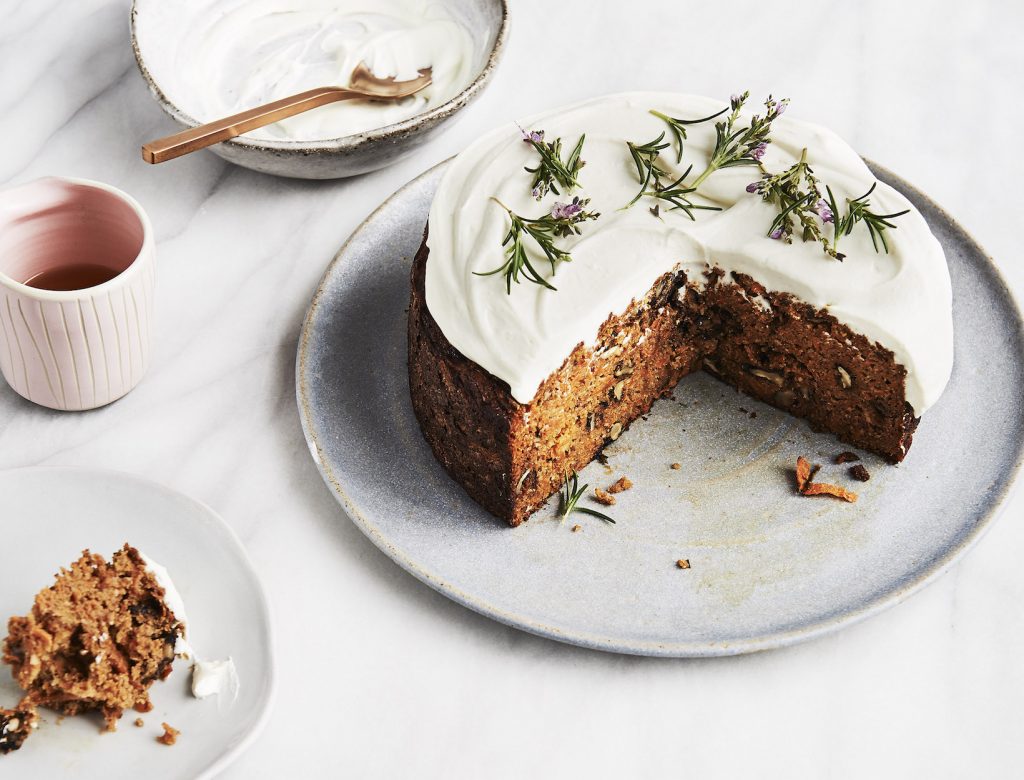 Carrot and Rosemary Cake with Labneh and Cacao Butter Frosting
This delightful sweet treat is somewhere between a quick bread and a cake; it's also pretty easy to make. Just sweet enough with a smooth, pleasantly tangy frosting—this is the perfect gluten-free afternoon pick-me-up.
3¼ cups peeled and grated carrot
1 cup grated red apple
1½ cups walnuts, coarsely chopped
8 medjool dates, pitted and coarsely chopped
3 large eggs
⅓ cup maple syrup
¼ cup macadamia oil, plus extra for greasing
2 teaspoons apple cider vinegar (unpasteurized)
1 tablespoon finely chopped rosemary
1½ cups almond meal
½ cup buckwheat flour
⅓ cup arrowroot
1½ teaspoons gluten-free baking powder
2 teaspoons ground cinnamon, plus extra for dusting
½ teaspoon bicarbonate of soda (baking soda)
1 teaspoon ground nutmeg
fresh rosemary leaves and flowers, to decorate
for the cacao butter frosting:
50 grams (1¾ ounces) cacao butter
2 tablespoons maple syrup
250 grams (9 ounces) labneh, strained for 2 days
1. Preheat the oven to 180°C (350°F). Lightly grease and line a 20×7.5-centimeter (8x-3-inch) round cake tin with baking paper.
2. Combine the carrot, apple, and walnuts in a large bowl.
3. Blend the dates, eggs, maple syrup, macadamia oil, and apple cider vinegar together in a food processor until smooth. Add to the carrot mixture along with the rosemary and stir to combine.
4. Whisk the almond meal, buckwheat flour, arrowroot, baking powder, cinnamon, bicarbonate of soda, and nutmeg together in a medium bowl. Add to the wet carrot mixture and stir to combine. Pour into the prepared tin.
5. Bake for 1 hour and 15 minutes, or until a skewer inserted into the center of the cake comes out clean. Remove from the oven, cover with a clean dish towel, and leave in the tin for 10 minutes to cool slightly.
6. Turn out onto a rack to cool completely.
7. Once the cake has cooled, prepare the frosting. Place the cacao butter and maple syrup in a medium heatproof bowl and set over a saucepan of just simmering water for 5 minutes, or until melted.
8. Whisk a large spoonful of the labneh into the cacao butter (he mixture will be very lumpy looking, like half-churned butter, but don't panic). Remove from the heat and continue adding the labneh, whisking until smooth and creamy.
9. Spoon and spread the frosting over the cake to completely cover the top. Dust with cinnamon and decorate with rosemary sprigs.
Originally featured in goop Cookbook Club: The Beauty Chef