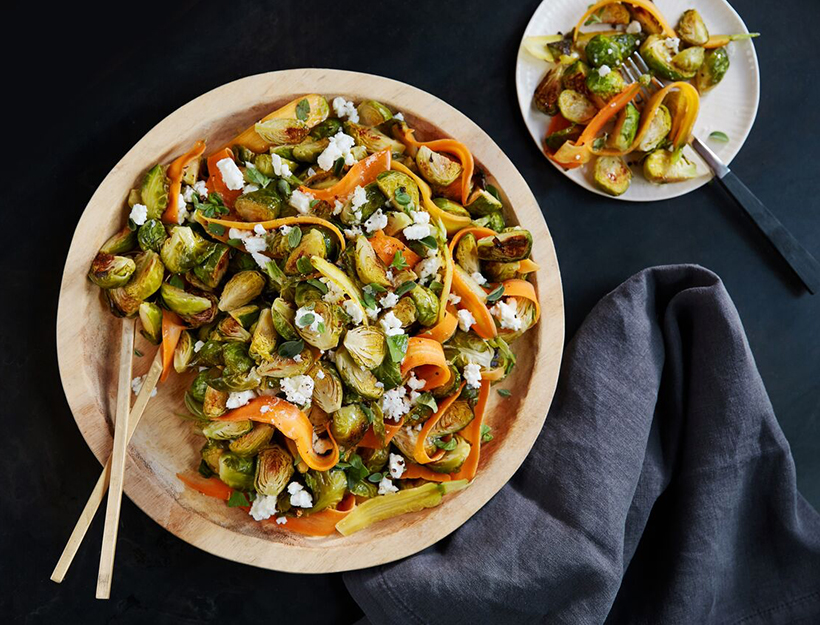 Carrot & Brussels Sprout Salad with Feta Cheese
This Brussels sprout and pickled carrot salad makes a wonderfully satisfying lunch or a great side dish for a dinner party. The recipe makes a lot, though, so we recommend halving it unless you're cooking for a particularly large group.
1. First, make the pickle; use a new green scouring pad to scrub the carrots well, removing any dirt or tough skin. Place the cleaned carrots and sliced onion in a large glass or ceramic jar (you might need a couple).
2. Next, make the brine; remember that you need enough brine to completely cover the vegetable, so amounts will vary depending on how big your carrots are. To make the brine, simply whisk 1 tablespoon of kosher salt into every 1 cup of water needed. Pour the brine over the carrots, top with a small plate or ceramic weight to keep the vegetables submerged, cover with a lid, and let sit in at room temperature (ideally between 60°F and 68°F) for at least 1 week and up to 3 weeks.
3. To make the salad, preheat the oven to 350°F. Toss the Brussels sprouts with the sunflower or grapeseed oil and a pinch of salt on a baking sheet. Roast in the oven for 25 minutes (or until golden brown), then remove to cool to room temperature.
4. Use a mandoline to shave the carrots or cut them into thin slices with a knife.
5. Toss the cooled Brussels sprouts, shaved carrots, feta, sliced green onions, and marjoram leaves together in a large bowl.
6. In a small bowl, whisk together the minced garlic, honey, pickle brine, lemon juice, and olive oil and season to taste with salt and pepper.
7. Pour the dressing over the salad, toss to combine, and season with more salt and pepper if desired.
Originally featured in Getting Our Fermentation On