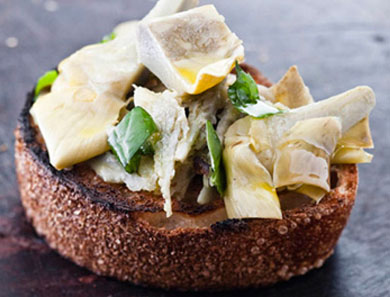 This beautiful and delicious springtime antipasti, created by Mario Batali, is an easy and impressive entertaining staple.
1. Split the trimmed artichoke and remove the choke with a paring knife. Place cleaned artichokes in acidulated (lemon) water.
2. In a 12- to 14-inch sauté pan with straight sides, heat oil and add garlic, onion, lemon and chopped mint.
3. Place artichokes cut-side down in the pan. Sprinkle them with salt.
4. Pour in wine and water to almost cover artichokes. Add the chile flakes. Turn the heat to high and bring the liquid to a boil, then reduce to a simmer, cover and cook for 20 minutes, until tender when pierced with a knife.
5. Remove cooked artichokes to a plate with a slotted spoon. Finish with orange zest, coarse sea salt, drizzle of olive oil, chile flakes and freshly ground black pepper.
6. Serve on top of bruschetta or as is.
Courtesy of Mario Batali Cooks!
Originally featured in Mario Batali Cooks