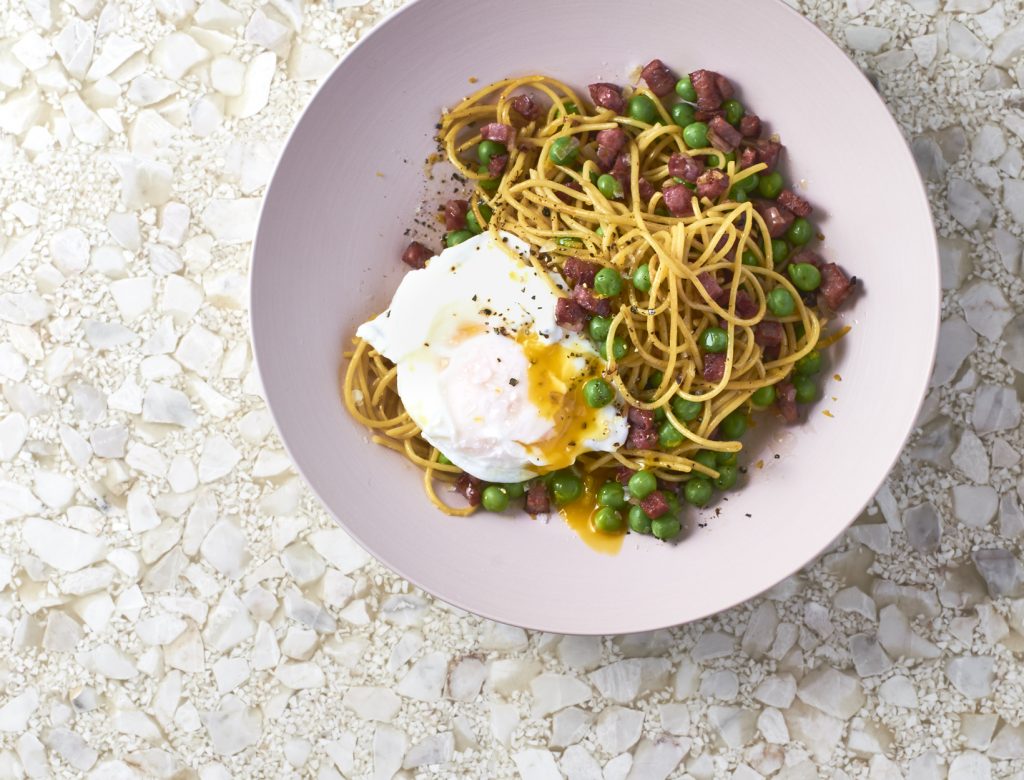 What this riff on carbonara lacks in pork, cheese, and gluten, it more than makes up for in caramelized shallots, sweet peas, and creamy egg yolk. This is a pasta you can make once a week (or more) and still feel light and lean.
1. Bring a large pot of water to a boil. Cook the lentil spaghetti for a few minutes less than the package directions so it will be al dente; drain and rinse with cold water to stop the cooking.
2. Meanwhile, heat the olive oil in a medium sauté pan over medium-high heat. Add the turkey ham and sauté for about 5 to 8 minutes, stirring occasionally, until nicely browned all over. Reduce the heat to medium and add the shallot and peas, adding a little more olive oil if needed. Sauté for a few more minutes, until the shallot is soft and the peas are fully cooked. Set the pan aside.
3. Next, bring a small pot of water to a simmer. Poach the eggs one at a time.
4. Right before serving, add the pasta to the ham mixture and toss, adding olive oil as needed. Add the lemon zest and a pinch of salt; stir to combine.
5. To serve, divide the pasta between 2 plates and top each portion with a poached egg. Finish with a pinch of salt and some cracked pepper to taste.