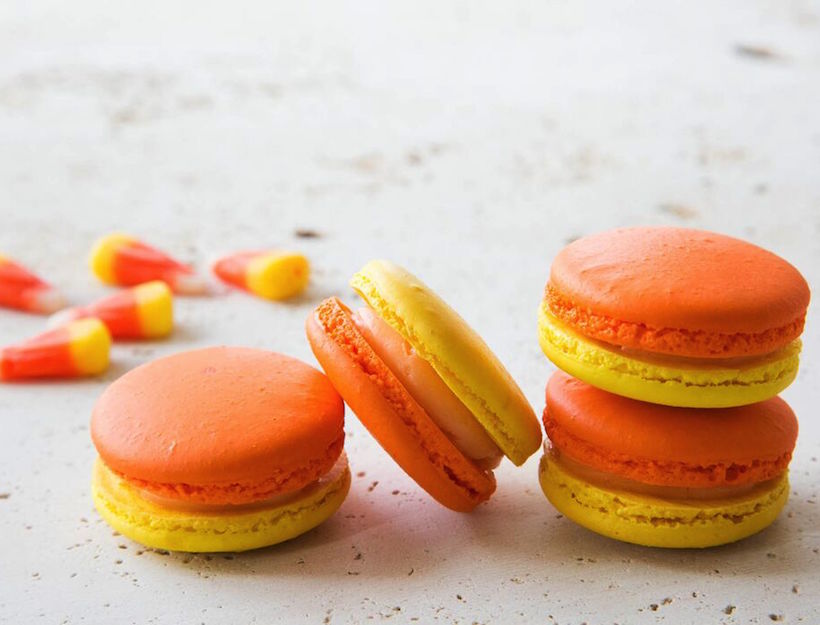 These are a real hit with kids, and pretty fun for adults, too. The filling is not exactly for novices (it takes several steps—one of which involves making Italian meringue), so if that's out of the question, just make or buy your favorite simple frosting.
to make the cookies:
1. Preheat the oven to 325F. Pulse almond flour, salt, and confectioners' sugar in the bowl of a food processor eight times, for 8 seconds each time. Sift to remove any additional lumps (we skipped this step without incurring disaster).
2. Whip the egg whites, granulated sugar, and cream of tartar in an electric mixer bowl fitted with the whisk attachment on medium-high speed until glossy stiff peaks form.
3. The next step is folding the dry ingredients into the meringue. It is important to fold the different components just enough, but not too much or the macarons will crack. To make sure that you have reached the right point, once the ingredients appear combined, lift a large portion of the mixture about 6 inches above the bowl with a spatula. If it breaks when falling, continue to fold. When folded just enough, the mixture should fall right back into the bowl, with no stiffness, in one continuous drip.
4. Split the batter in half and add food coloring. 4 drops of orange in one half; 4 drops of yellow in the other. Fold to combine but be careful not to over-mix. It is OK if there are still swirls of color. As you pipe the mixture, it will combine further—plus tie-dye always looks cool.
5. Place mixture in a piping bag with a small metal tip and pipe the macarons 1 1⁄2 inches apart on a baking sheet lined with parchment or a Dana's Bakery silicon baking sheet. Once you're done piping, slam the baking sheet down to remove excess air (slam eight times, from 6″-8″ above the table). Let macarons sit to get a skin for 15-30 minutes. Bake for 15 minutes, until the macarons just come off the baking sheet when you lift them (the centers will have risen, and will not have any dark indentations). Cool completely before removing and filling.
to make the buttercream:
1. Place egg whites and cream of tartar in a mixer fitted with the whisk attachment and whip until they hold a soft peak.
2. Meanwhile, combine sugar and ¼ cup (57 grams) water in a small saucepan over medium-high heat. Bring the mixture up to a boil, then continue to cook until the syrup reaches 238°F (115°C).
3. Immediately add the syrup, pouring slowly, to the egg white mixture, keeping the machine running on medium speed. Once the syrup is added, continue whisking for about 8 minutes, until the mixture has cooled.
4. Add the salt and cold butter and whip on high speed until fluffy and emulsified, about 10 minutes.
5. In small sauce pan, combine 1 cup of candy corn and 1/4 of a cup of water. Cook over low heat until candy corn has melted (mostly—some pieces are OK). Once melted, pour the candy corn "syrup" into the buttercream and whip with paddle attachment until combined.
6. To assemble, place half a piece of candy corn in the center of one macaron cookie. Use a piping bag (a ziploc bag with the corner cut off works well in a pinch) to make a small circle of filling around the candy, then top with second macaron cookie.
Originally featured in Halloween-Worthy Macarons