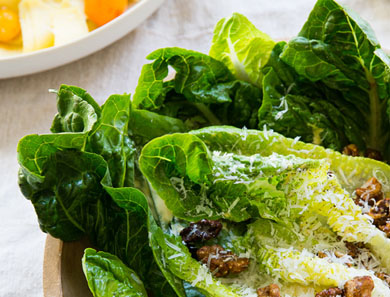 This is part of Roberta's Cookbook recipe for Romaine Salad. We tried it out for an edition of Cookbook Club.
1. Preheat the oven to 350°F. Put the nuts on a baking sheet and when the oven is at temperature, put them in. Roast for 4 minutes and then rotate the sheet 180 degrees and roast for another 4 minutes. Remove them from the oven and let cool. Turn the oven down to 275°F.
2. In a large bowl, whisk the egg whites until they begin to have body but not so much that they begin to form soft peaks. Add the brown sugar, honey, and about 10 turns of a pepper grinder's worth of black pepper and combine.
3. Add the walnuts to the mixture and mix with a wooden spoon until they're all well coated. Spread them on a foil-lined baking sheet and sprinkle them evenly with the salt. Put them in the oven and bake for about 12 minutes. Then rotate the baking sheet and bake for another 12 minutes; the nuts should be dry, not sticky. Remove them from the oven and let them cool. They'll stay fresh for up to 2 weeks in a sealed container in a cool, dry place.
Recipe reprinted with permission from Roberta's Cookbook.
Originally featured in The goop Cookbook Club: Roberta's