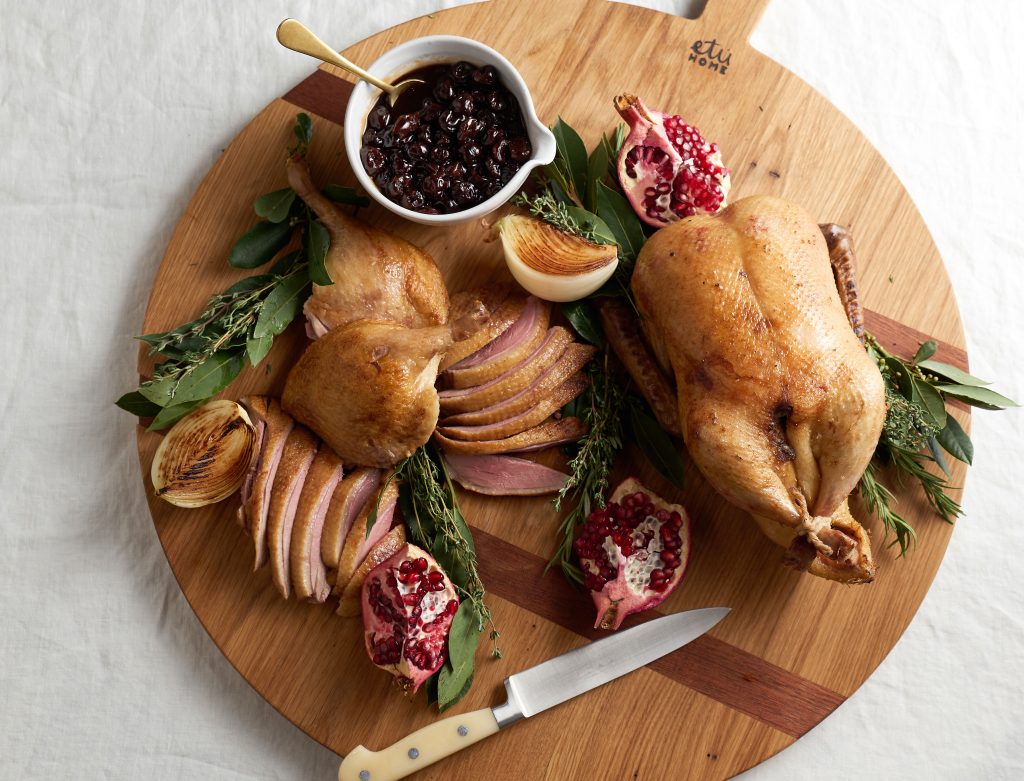 Canard Aux Cerises (Duck with Sour Cherries)
For more than 25 years, Ed Behr has edited The Art of Eating, a truly intellectual and enjoyable journal on food and everything that goes with. He has travelled the world trolling for the best artisanal ingredients, meeting the most knowledgeable, but often unknown, cooks, and supplying readers with their best recipes. We are big fans of his beautifully presented magazines and now we're glad to have the compendium of recipes edited into this book. We thought the French Canard aux Cerises might make for a good alternative to turkey this year. Don't miss George Bates' lovely, old-fashioned yet contemporary, graphic illustrations for the book!
1. Put the cherries, if dried, to soak in just enough hot water to cover them and set them aside. In a heavy pot just large enough to hold the duck, and having a tight-fitting lid, brown the duck, carrot, and onion slowly and well in fat over medium heat, uncovered, turning to color all sides–as long as 1 hour, with very low heat. Add the wine, scraping to dissolve the brown material on the bottom of the pot, and then enough water to almost immerse the bird. Add the herb bundle, and season lightly with salt (the sauce will later be concentrated). Cover and cook at a very low bubble, turning the duck from time to time, until the meat is thoroughly tender–at least 1 hour.
2. When the duck is done, remove it to a warm platter, and discard the carrot, onion, and herb bundle. Carefully skim the fat from the remaining juices and then strain them and return them to the pot. Drain the soaked dried cherries, if you use those, setting the fruit aside and adding the soaking water to the pot. Over high heat, reduce the combined liquids to about 3/4 cup (175 ml). Add the cherries and cook about 3 minutes for soaked dried cherries or 15 minutes or more for fresh. If they yield juice, boil for a few more minutes to thicken the sauce. Taste it, and add salt, pepper, and sugar as needed. Carve the duck at the table, ladling some cherries and sauce over each serving. If the cherries have pits, warn your eaters.
Originally featured in The Thanksgiving Lowdown