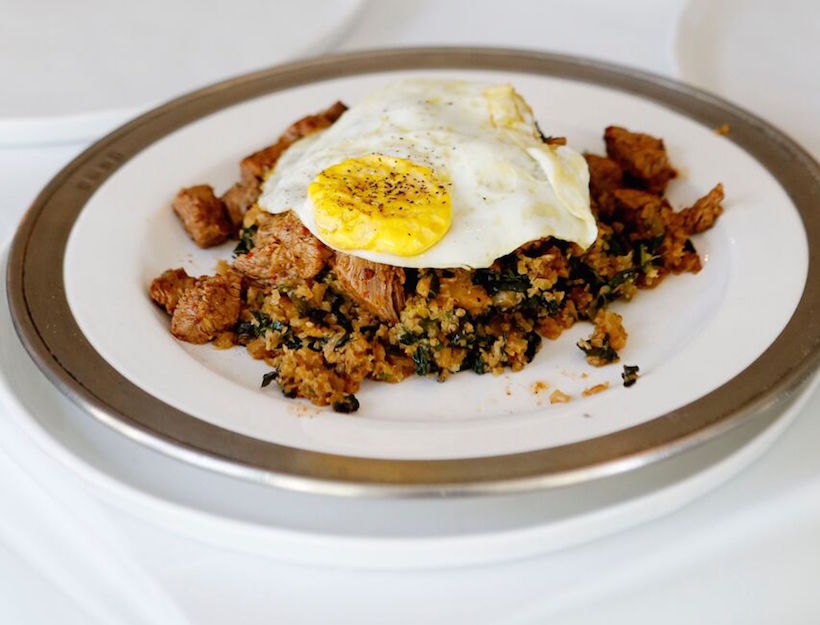 Cameron's "Put An Egg On It" Cauliflower Fried Rice
According to Cameron, almost any leftovers you find in the fridge can be easily transformed into a damn good breakfast—all you need is a quick stir-fry and an over-easy egg. After tasting this—her "put an egg on it" interpretation of GP and Thea's Kimchi Cauliflower Fried Rice—we're inclined to agree.
1. Cut the meat into ¼-inch slices, then cut into ¼-inch cubes. Place in a small bowl and pour over most of the juice from a jar of kimchi. Mix together and let sit about 5 minutes to marinate.
2. Heat a medium sauté pan over high heat. Add olive oil and steak and sear very quickly on all sides if you like your meat medium-rare (take your time if you like it a bit more cooked); remove the steak to a bowl. Add the leftover cauliflower fried rice and a splash of chicken stock to the pan and place a lid over the top to quickly reheat.
3. While the cauliflower is reheating, place another frying pan over medium heat. Once the pan is hot, drizzle in the remaining tablespoon of olive oil and crack your egg directly into the pan. Fry the egg to your liking—I like mine over-easy so the runny yolk can spill out and mix into the rice.
4. Mix the steak back in with the cauliflower, remove to a plate, top with the fried egg, and dig in!
Originally featured in Cameron Diaz Puts an Egg On It