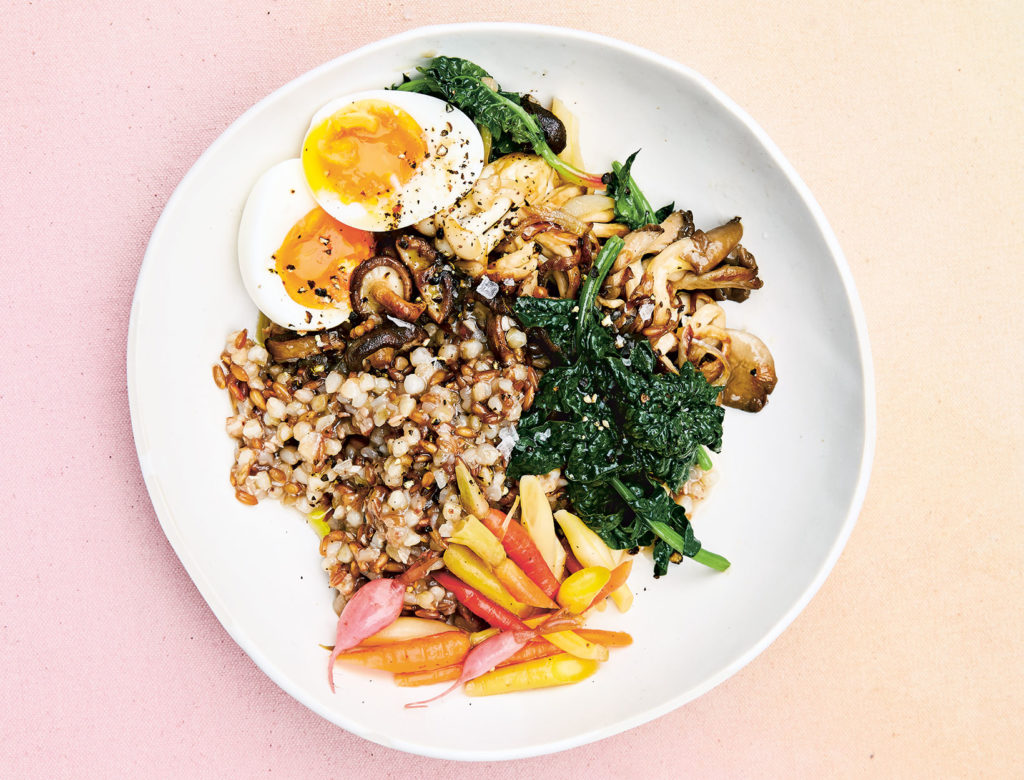 Californian Grain Bowl
"Grain bowls are a popular way to showcase heirloom grains and farmers' market bounty. They have become a staple at many eateries throughout California. This breakfast version is a cozy way to start the day but is suitable for lunch or dinner." —Vivian Lui
125 grams (4 ounces) buckwheat
135 grams (5 ounces) rye grains
1.15 liters (4½ cups) vegetable stock
4 tablespoons extra virgin olive oil
4 large eggs
1 shallot, thinly sliced
225 grams (8 ounces) mixed mushrooms, sliced
170 grams (6 ounces) spinach, thick stems removed
150 grams (5 ounces) pickled vegetables like carrots, radishes, or turnips
sea salt flakes
1. Soak the grains overnight. They can be soaked together. The next morning, drain the grains and shake off any excess liquid.
2. Bring the stock to a simmer in a small saucepan. Reduce the heat to low to keep warm.
3. Heat a large sauté pan over medium heat. Add 2 tablespoons of the olive oil and stir in the grains to coat. Add 1 teaspoon salt and a ladleful of stock. Stir frequently for 5 minutes until almost all the liquid is absorbed. Add another ladleful of stock and repeat until all the stock is used up, about 30 to 35 minutes. The mixture will be slightly creamy but still have little bite from the rye grains. Turn off the heat and cover. A splash of water can be added to reheat just before serving.
4. While the grains are cooking, bring a small pan of water to the boil. Use enough water to cover 4 eggs by 2.5 centimeters (1 inch). Lower the eggs into the water and simmer for 6 minutes. Transfer the eggs to an ice bath. Gently crack the eggs all around and leave to cool just enough to handle. Peel and set the eggs aside.
5. Heat a large frying pan over medium-high heat. Add the remaining 2 tablespoons olive oil, the shallot, mushrooms, ½ teaspoon salt, and ¼ teaspoon pepper and cook for 5 to 8 minutes until the mushrooms are golden. Stir in the spinach to wilt. Season lightly.
6. Divide the grains among 4 bowls and serve with the eggs, vegetables, and pickles.
Recipe extracted from Eat California by Vivian Lui published by Smith Street Books. Photography © Con Poulos. Food stylist © Vivian Lui.