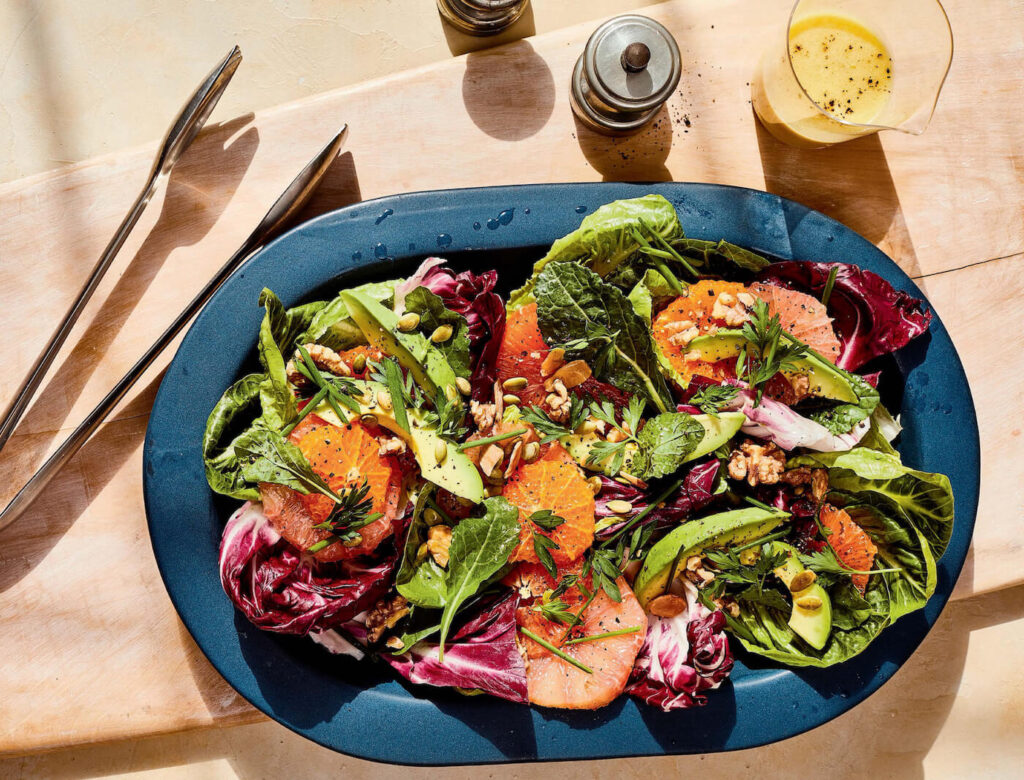 "This is my simple dinner salad and, truth be told, it may be a little different from what you're expecting. Don't get me wrong, I love a good garden salad with ranch dressing and maybe bacon bits. But being a California girl, salad for me has always meant greens with whatever fruit is in season—pears, apples, grapes, Cara Cara oranges, clementines—and lots of avocado, crunchy nuts or seeds, whatever herbs I have on hand, a basic vinaigrette, and sometimes a little soft goat cheese crumbled on top. The crunchy, sweet, and bright combination of these items makes the perfect salad for me, and it gets served alongside dinner at least five out of seven nights per week at my house." —Walker
1. First, make the Maple-Cider Vinaigrette (if using): In a bowl, whisk together the maple syrup, vinegar, mustard, lemon juice, coriander, cinnamon, cumin, turmeric, salt, and pepper. Slowly drizzle in the oil while whisking vigorously. Use immediately, or transfer to a jar, cap tightly, and store in the fridge for up to 3 weeks. Shake well before using.
2. In a large salad bowl, layer the greens, fruit, nuts and/or seeds, herbs, and avocado. Toss gently to combine. Drizzle with the vinaigrette and toss again to coat. Serve immediately.
Recipe extracted from Healthy in a Hurry by Danielle Walker. Copyright © 2022 by Simple Writing Holdings, LLC. Published by Ten Speed Press, an imprint of Random House, a division of Penguin Random House LLC. Photography © 2022 by Aubrie Pick.
Originally featured in 3 Quick Paleo Dinner Recipes from Danielle Walker