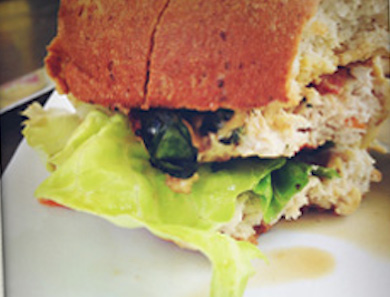 Cal-Asian Turkey Burgers
A Cal-Asian twist on the turkey burger. Chef Joey Santos serves these up on wheat-free buns for a totally gluten-free meal.
1/2 lb ground turkey, dark meat
1/2 lb ground turkey, white meat
1 tsp hoisin sauce
1 tsp soy sauce
1/4 tsp red chili flakes
2 cloves garlic, finely chopped
1/4 cup cilantro, finely chopped
1 egg beaten (for binding)
1/2 tsp sesame oil
1/4 cup gluten-free bread crumbs
1. Combine all ingredients (except hamburger buns) in a bowl. Mix with hands and form four 1/4 lb patties.
2. Heat skillet and spray a thin layer of non-stick oil. Place the patties on the skillet and cook through.
3. Serve on warm gluten-free buns with lettuce, tomato, sliced red onion, sliced avocado and extra hoisin sauce.
Originally featured in Healthy Family Meals