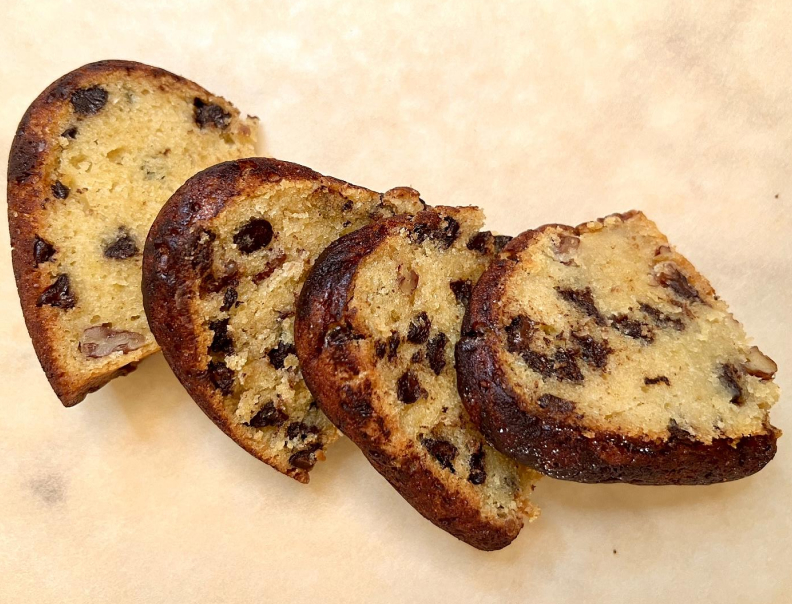 Cake with Brown Sugar, Rum, and Chocolate Chips
"This is a deeply flavored cake that I make in the autumn or winter. It's loosely based on one I tore out of French Elle many years ago and have since lost. In that recipe, a tablespoon of coffee extract was used, not rum. This balance of ingredients, here, seems to become one warming, boozy note, which I prefer. The honey and brown sugar add depth and the crème fraîche gives it a slight tangy richness. Like most French cakes, it is made with melted butter and is not too sweet. Toasted walnuts would be the classic addition, but the American in me opts for chips or chunks of dark chocolate. If you prefer not to use alcohol, replace the rum with strong espresso."
1. Preheat the oven to 350°F. Generously butter a 10-cup Bundt pan. Set in the fridge until the butter is cold. Dust with cocoa powder.
2. Melt the butter and set aside somewhere warm.
3. Place all the dry ingredients in a small mixing bowl and whisk to combine.
4. In a larger mixing bowl, combine the eggs, melted butter, honey, vanilla, crème fraîche, and rum. Using electric beaters on low speed, whisk to combine thoroughly. The purpose is to integrate the ingredients, not add air, so only a minute or two is necessary.
5. Tip the dry ingredients and the chocolate chips into the wet and fold to combine using a rubber spatula.
6. Pour into the prepared pan and bake for approximately 40 minutes, or until a knife inserted in the center comes out clean. (If you insert the knife into a chocolate chip, try again.)
Excerpted from Gateau by Aleksandra Crapanzano. Copyright © 2022. Available from Scribner, an imprint of Simon & Schuster.
Originally featured in 3 Easy, Dinner-Party-Worthy French Cakes