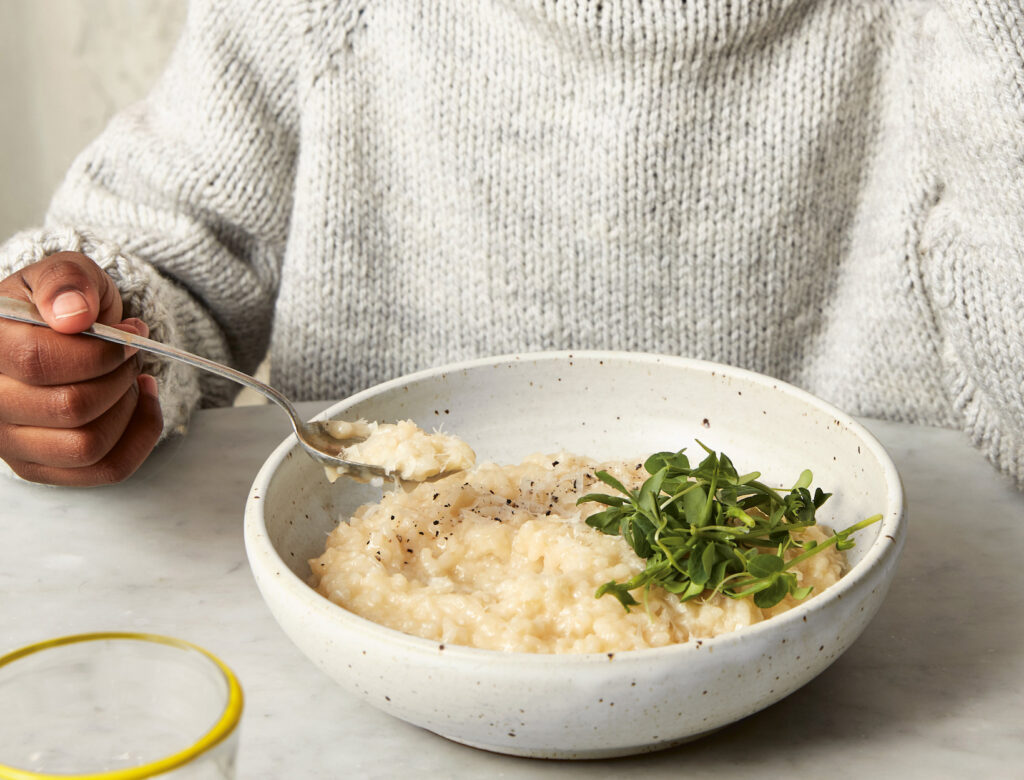 "Risotto in a pressure cooker is a miracle—amazingly quick, bafflingly easy, and spot-on delicious. Here, the classic Italian pairing of cheese and black pepper is embellished with crispy sage." —Copeland
1. Pour the olive oil into the inner pot of the pressure cooker and set to Sauté. Add the sage leaves and cook until lightly crisp, 2 to 3 minutes. Remove with a slotted spoon and place on a paper-towel-lined plate to drain.
2. Add the onion, garlic, and rice to the inner pot (this is one time I skip soaking my rice!) and stir to coat in the sage-infused oil. Stir in the wine and cook until it evaporates a little, about 1 minute. Add the broth and ½ teaspoon salt.
3. Lock on the lid and pressure-cook on high pressure for 6 minutes. Release the pressure manually and open the lid. The rice should be tender and have absorbed most of the liquid but should still seem a little loose.
4. Stir in ½ cup of the cheese and the butter. The risotto will tighten as it cools. Serve warm, sprinkled with additional salt to taste, a generous helping of more cheese, and plenty of black pepper. Garnish with the crispy sage leaves and the pea shoots (if using).
Delay Start: Risotto is a perfect candidate for using the Delay Start time setting, allowing you to set the start of the cooking so it is completed when you're ready for it. If you don't plan to serve the risotto right away, you can cook the rice for 5 minutes instead of the 6 (the extra minute makes a difference!) and have it cook further while the steam slowly releases. But don't leave it on the Keep Warm setting for longer than 5 minutes, or the rice will fall apart.
For the Slow Cooker: Add all the ingredients except the sage, cheese, and butter to the slow cooker and stir to blend. Cover and cook on high for 3 hours or on low for 6 hours. Stir in the cheese and butter, adding a bit more broth to loosen, if needed. Serve warm, topped with salt to taste, more cheese, and the pepper.
Reprinted with permission from Instant Family Meals by Sarah Copeland, copyright © 2020. Photographs by Christopher Testani. Published by Clarkson Potter, a division of Penguin Random House, LLC.
Originally featured in 4 One-Pot Recipes That Feed a Whole Family