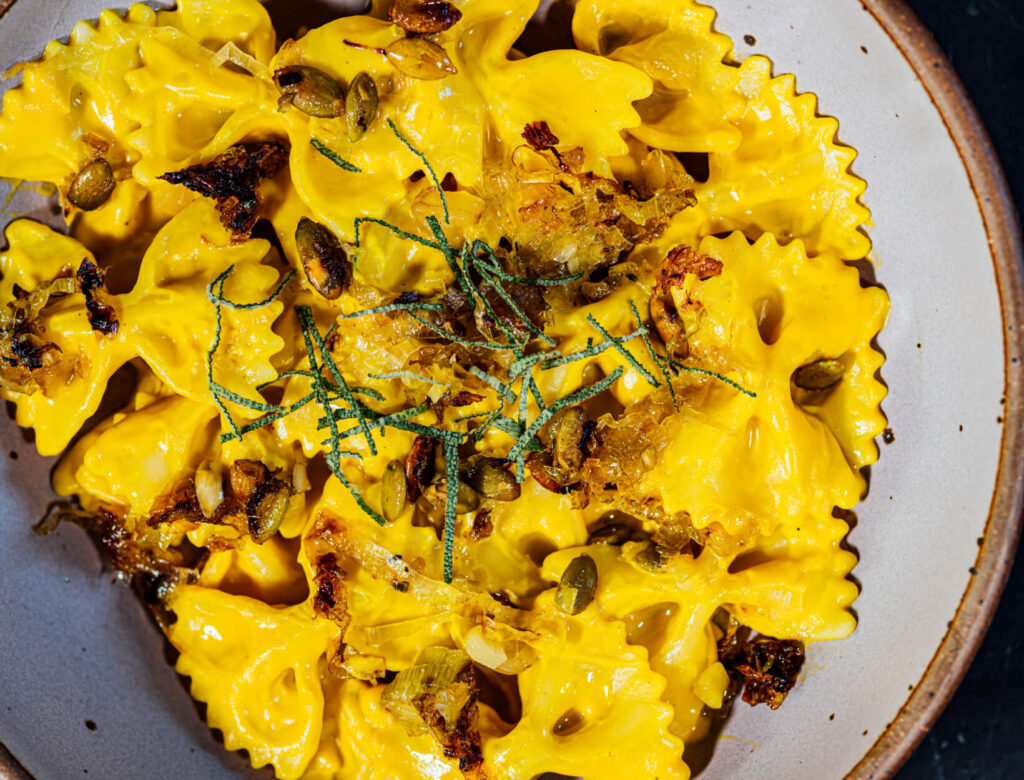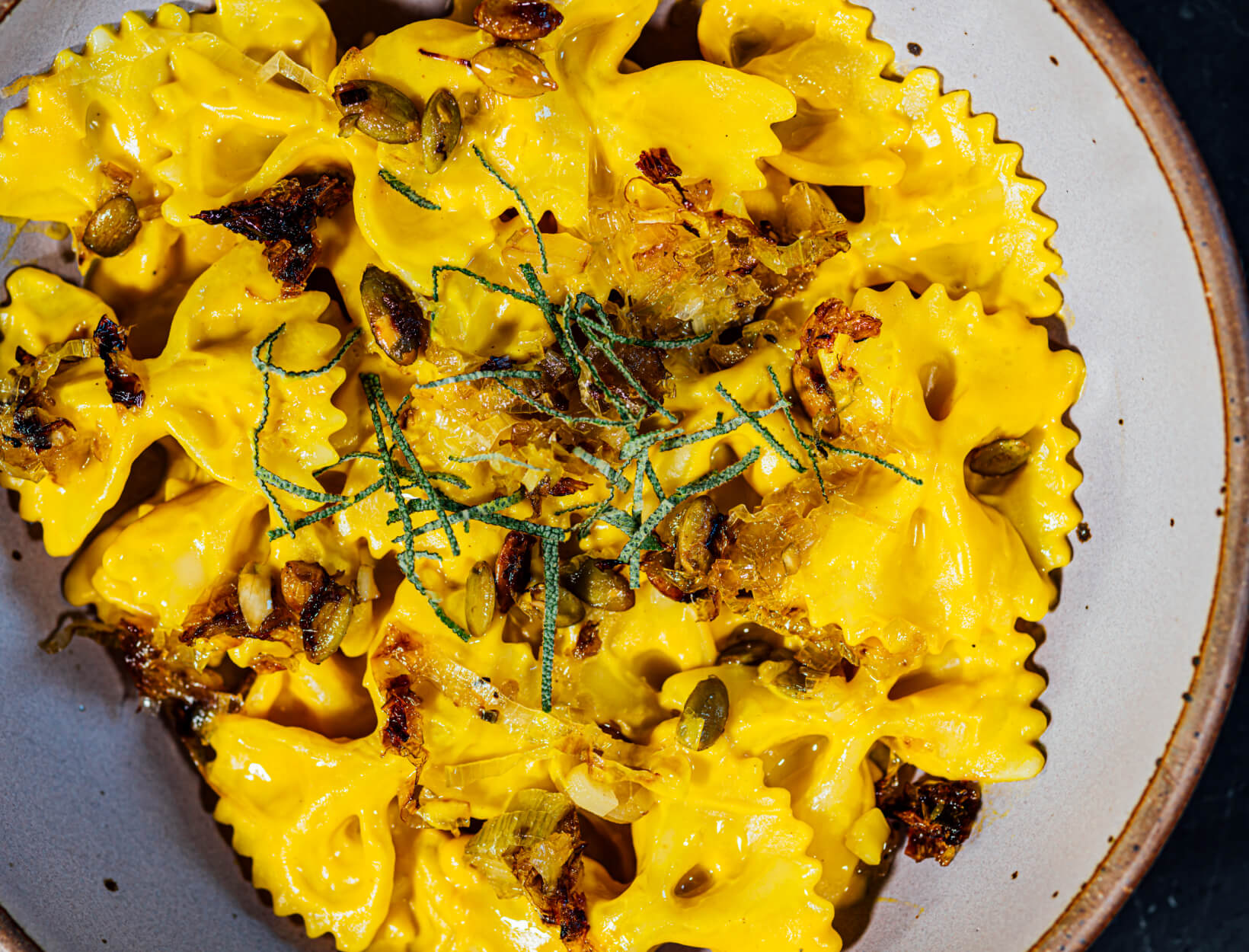 Butternut Squash Sauce, Crispy Leeks, and Farfalle
Farfalle is my favorite pasta shape, quite possibly because it's one of the most playful ones. So there was no way I'd leave it out of this book. This pasta sauce is remarkably easy to put together and produces superior results. But, best of all, it takes less than an hour to prepare, making it a great meal for a busy weekday. Roast, blend, and season the butternut squash to make the sauce, and top the pasta with plenty of crispy leeks.
1. Preheat the oven to 400°F (200°C).
2. On a rimmed baking sheet, toss together 1 pound (455 grams) peeled and seeded butternut squash, diced into 1-inch (2.5-centimeter) cubes, and 1 tablespoon extra virgin olive oil. Spread in a single layer and roast until completely tender and lightly caramelized, 30 to 45 minutes. Remove from the oven and transfer to a medium saucepan.
3. To the saucepan, add 2 cups (480 milliliters) water; ½ cup (70 grams) unsalted raw cashews; 2 garlic cloves, smashed; ½ teaspoon ground turmeric; ¼ teaspoon ground cayenne; ¼ teaspoon baking soda; and ⅛ teaspoon ground nutmeg. Bring to a boil over medium-high heat. Remove from the heat and let sit for 5 minutes.
4. Transfer the mixture to a high-speed blender or food processor. Add 3 tablespoons white or yellow miso and, using caution, carefully blend the hot liquid until silky smooth. Keep the top of the blender covered with a dish towel to help keep the sauce warm.
5. While the squash and cashew mixture is simmering, bring a large pot of salted water to a boil and cook 1 pound (455 grams) farfalle to al dente, per the package instructions. Reserve 1 cup (240 milliliters) of the pasta water, then drain the cooked pasta and transfer to a large bowl.
6. Meanwhile, in a medium saucepan, warm ¼ cup (60 milliliters) extra virgin olive oil over medium-high heat. Lower the heat to medium-low and add 2 medium leeks, trimmed and thinly sliced, and ¼ teaspoon fine sea salt. Sauté until lightly golden brown and starting to crisp, 10 to 20 minutes (this might take longer and, just like browning onions and life, is unpredictable when it comes to time). If they start to burn, add 1 tablespoon water and scrape the bottom of the pot. Add 2 tablespoons raw unsalted pumpkin seeds and 1 teaspoon red pepper flakes such as Aleppo, Maras, or Urfa. Sauté until the seeds start to brown, 1 to 2 minutes. Remove from the heat, taste, and season with fine sea salt. When ready to serve, fold the pasta into the sauce, adding some of the reserved pasta water, 1 to 2 tablespoons at a time, to make the sauce glossy (the sauce will become drier as the pasta sits). Top with the crispy leeks and pumpkin seeds. Garnish with 4 large fresh sage leaves, thinly sliced.
7. Serve hot or warm. Store leftover pasta in an airtight container in the refrigerator for up to 3 days. When reheating, add 1 to 2 tablespoons water to rehydrate the pasta.
THE COOK'S NOTES
• What holds this pasta sauce together is the combination of butternut squash, cashews, and garlic. They each contain emulsifying agents that make the sauce cling to the noodles.
• Baking soda and salt help soften the tough pectin in the squash and pave the way for creating a velvety pasta sauce.
• A high-speed blender does a fantastic job of making a smooth purée. If you don't own one or your blender isn't the strongest, substitute ½ cup smooth cashew butter in place of the cashews.
• Shallots are an excellent alternative to leeks here.
• For a "cheesy" taste, blend in 1 tablespoon nutritional yeast with the roasted squash.
Excerpted from Veg-Table: Recipes, Techniques + Plant Science for Big-Flavored, Vegetable-Focused Meals by Nik Sharma. © 2023. Published by Chronicle Books. Photographs by Nik Sharma.
Originally featured in Cozy Vegetable-Forward Recipes from Nik Sharma