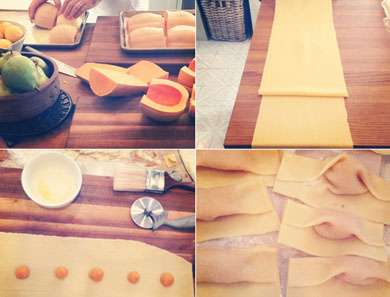 Butternut Squash Raviolini
The squash can be roasted the day before, but it's best to make the pasta fresh the day of.
1. For the filling: Pre-heat the oven to 400°F. Line a large baking sheet (or two) with parchment paper (if you don't have parchment, tin foil is fine). Drizzle the parchment with olive oil. Lay the pieces of squash flesh side down onto the baking sheet. Place into the oven and cook until soft and light brown, about 1.5 hours. Remove from oven and let cool. Using a large metal spoon, scrape the flesh from the skin into a large bowl. Season with salt and pepper to taste. The butternut is fine to use for the ravilolini as is, but if you prefer a smoother filling, run the flesh through a mill or food processor until smooth.
2. For the dough: Add flour to the bowl of an electric mixer fitted with a dough hook. With the setting on low, add eggs 1 at a time and mix. Drizzle in oil and continue to mix all the flour until it forms a ball. On a wooden cutting board or any clean work surface, sprinkle some flour and place the dough on top. Knead the dough until smooth and elastic. Wrap in plastic and let rest for about 20 minutes.
3. For the raviolini: Slice the dough into quarters. Take the first quarter and feed it through the pasta machine on the widest setting. Keep feeding the pasta through the machine turning the nob until you reach the narrowest setting. The dough should be paper-thin. Cut the sheets of dough in half lengthwise. Lay sheets on a clean flour dusted surface. Place a teaspoon of filling about 2 inches apart onto the dough. Fold the dough twice over the filling until you have one long parcel. Using a pizza cutter, slice the parcel into raviolini and seal the edges by pressing down on them with your fingers. Repeat with the rest of the dough and the filling. To cook, drop the pasta in salted boiling water until they rise to the top, about 5 minutes.
4. For the sauce + final assembly: In a large saucepan over medium heat, melt the butter with the sage until the butter begins to brown. Remove from heat. Drop the cooked raviolini into the saucepan and toss to coat. Grate the zest of one lemon and toss again to combine. Plate the raviolini and season with salt and parmesan to taste.
Originally featured in A Dinner for the Edible Schoolyard Project