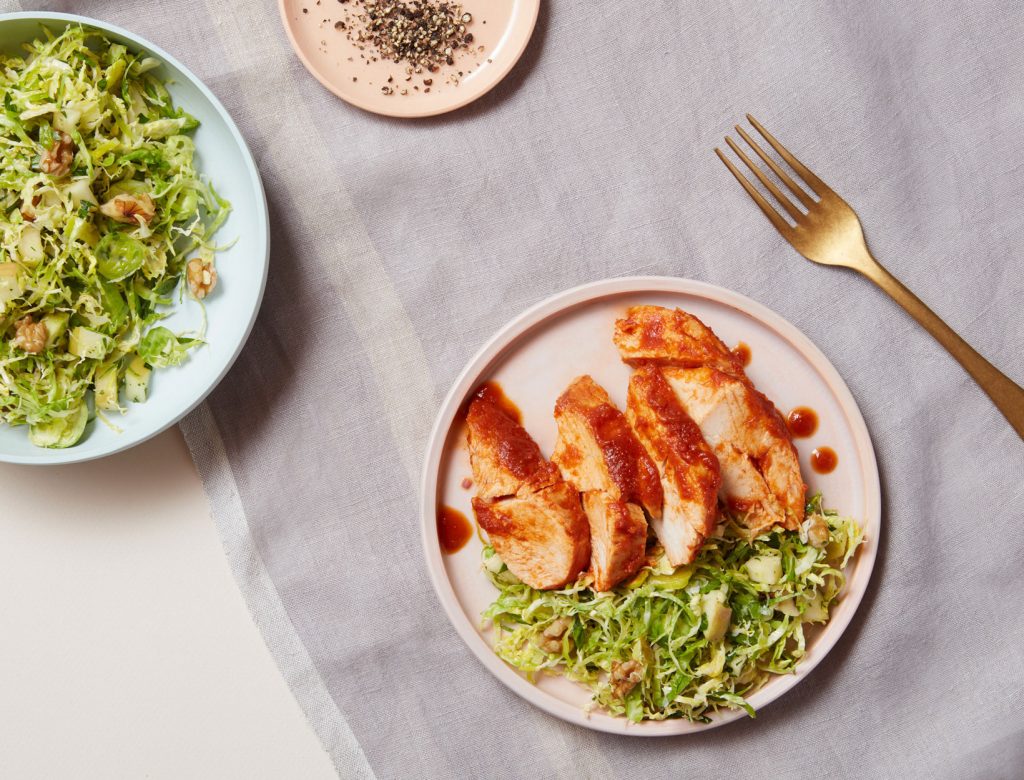 Butternut BBQ Chicken and Brussels Sprouts Slaw
Skip the sugar-y store-bought BBQ sauce and make this instead. You won't miss the sugar since the butternut squash is naturally sweet.
1. Preheat oven to 350°F.
2. Toss cubed butternut in 1 teaspoon olive oil, ¼ teaspoon salt, freshly ground black pepper, and chili powder. Place on a rimmed baking sheet in a single layer. Bake 30 minutes, or until it's easy to pierce with a fork and the cubes are lightly browned. While the squash is cooking, in a saucepan add remaining 1 tablespoon of olive oil and garlic. Cook on medium-low until garlic is fragrant. Add sauce, paste, remaining seasonings, and vinegar to pan. Whisk to combine. Cook on low until squash is ready. Add squash and cook over medium-low for 10 minutes. Stir occasionally. Use an immersion blender, or transfer to blender when cool and puree to smooth.
3. For the chicken: add 1 teaspoon olive oil to a large pan with a lid. Heat over medium and add chicken breasts to pan. Pour sauce over top, reserving 1 cup of sauce for serving. Cover and cook on low for 12 minutes. Turn off heat and keep on lid for an additional 12 minutes. Check internal temperature of chicken to make sure it's reached 165°F. If it needs a bit more time, turn on low and put lid back on pan for a few more minutes. Slice or shred chicken and serve with reserved sauce.
4. To make the slaw, add all ingredients to bowl and toss to combine.
Originally featured in Healthy-But-Doable Weeknight Dinners