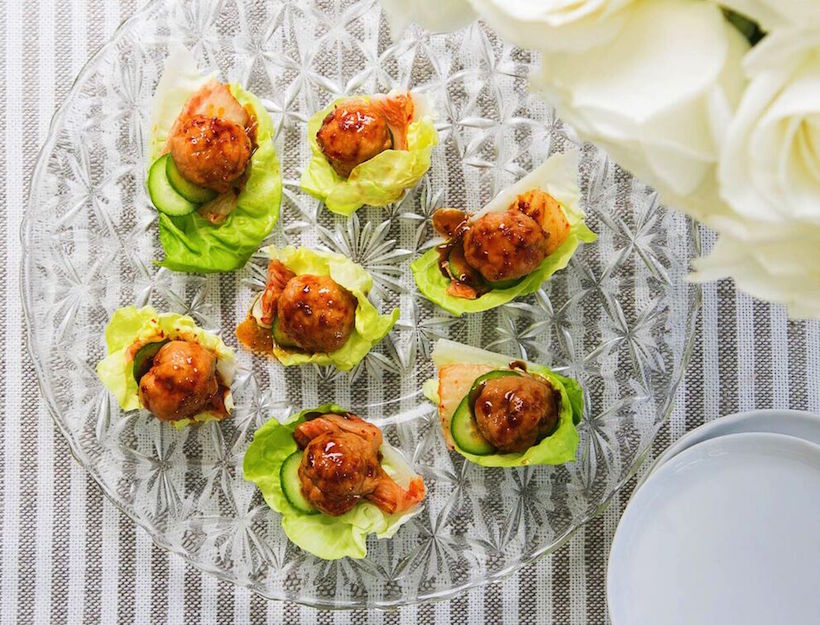 Bulgogi Chicken Lettuce Cups
Bulgogi is a famous (and seriously delicious) Korean marinade made with soy, ginger, garlic, and usually brown sugar. Here we seasoned mini chicken meatballs with all of those flavors and served them in bite-size lettuce cups for a healthy and flavorful spin on Korean BBQ.
1. Preheat the oven to 400°F.
2. To make the meatballs, combine garlic, ginger, brown sugar, sesame oil, soy sauce, and gochujang in a medium bowl and whisk together. Add ground chicken and use a fork to mix everything together. Lightly grease a parchment-lined baking sheet with cooking spray, roll the chicken mixture into 16 little meatballs, place on the baking sheet, and bake 20 minutes, or until meatballs are starting to brown and are cooked through. Set aside to cool.
3. While the meatballs bake, make the glaze. Whisk together soy sauce, brown sugar, sesame oil, and gochujang paste in a small saucepan over medium heat. Bring the mixture up to a boil, then reduce the heat and simmer for 30 seconds, or until sugar is dissolved and glaze is slightly thickened. Set aside to cool.
4. When ready to assemble, place 1 piece of kimchi in each lettuce leaf. Top with 2 slices of cucumber and 1 chicken meatball. Use a brush or small spoon to coat each meatball with some glaze, then serve.