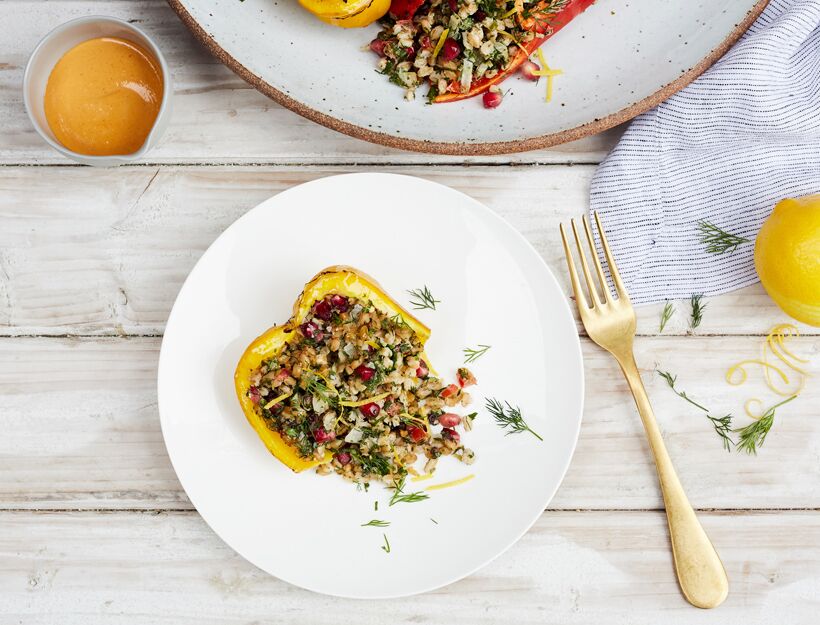 Buckwheat-Stuffed Peppers with Tahini Dressing
Still to this day, it blows my mind how chargrilling peppers with nothing more than olive oil, salt, and pepper intensifies the flavor and aroma. This flavor bomb is the result of the heat drawing out natural sugars—these sugars then caramelize on the skin, resulting in color, char, and an intense flavor.
1. To make the tahini dressing, put the tahini, water, paprika, garlic, jalapeño, and lemon zest in a bowl, a glass jar with a lid, or a blender. Season with salt and pepper and whisk, shake, or blend until well combined. Set aside.
2. Preheat the oven to 350°F. Line a baking tray with baking paper.
3. Blacken the skin of the peppers over an open flame (on a gas ring or using a blow torch) on all sides. This should take about 10 minutes and will create a sweet, smoky flavor. Set aside to cool.
4. Cut the peppers in half and remove the seeds and membranes. Put them on the baking tray.
5. To make the stuffing, heat the olive oil in a medium saucepan over medium heat. Add the onion, garlic, and jalapeño and cook for 5 minutes or until the onion is tender. Add the tomato and cook for 4 minutes. Transfer the mixture to a large bowl and add the pomegranate seeds, buckwheat, parsley, lemon zest and juice, ricotta, and currants. Combine well and season with salt and pepper.
6. Fill the pepper halves with the stuffing mixture and cook in the oven for 10 minutes or until tender. Serve with the tahini dressing and scatter the fresh herbs on top.