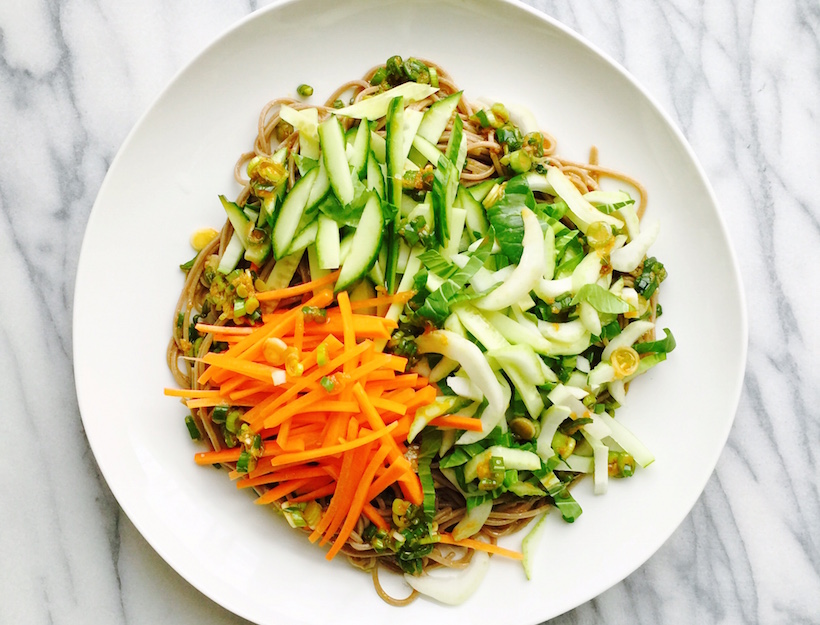 Buckwheat Soba Noodle Salad
This salad is pretty quick to put together and sits well, which makes it a perfect packed lunch for work. Add grilled chicken or steamed fish for a heartier meal.
for the Ginger Scallion sauce:
1 bunch scallions, thinly sliced (about 1¼ cups total)
1 4-inch piece of ginger, peeled and very finely minced (a microplane works great here)
2 teaspoons toasted sesame oil
3 tablespoons wheat-free tamari
2 tablespoons rice vinegar
¼ cup neutral oil (such as grape-seed)
1 large pinch coconut sugar
for the Soba salad:
8 ounces soba noodles
3 small or 1 large carrot, peeled and cut into julienne
2 Persian cucumbers, cut into julienne
1 large bok choy, cleaned and thinly sliced
¼ cup chopped cilantro
1. For the ginger scallion sauce, combine all ingredients and let sit while you prepare the salad.
2. Cook soba noodles according to package instructions, drain, and rinse with cold water.
3. Toss noodles with half the scallion sauce and half the cilantro, cucumber, carrot, and bok choy.
4. Put in a serving bowl, scatter with the remaining ingredients, and drizzle more ginger scallion sauce over the top.
Originally featured in The Annual goop Detox