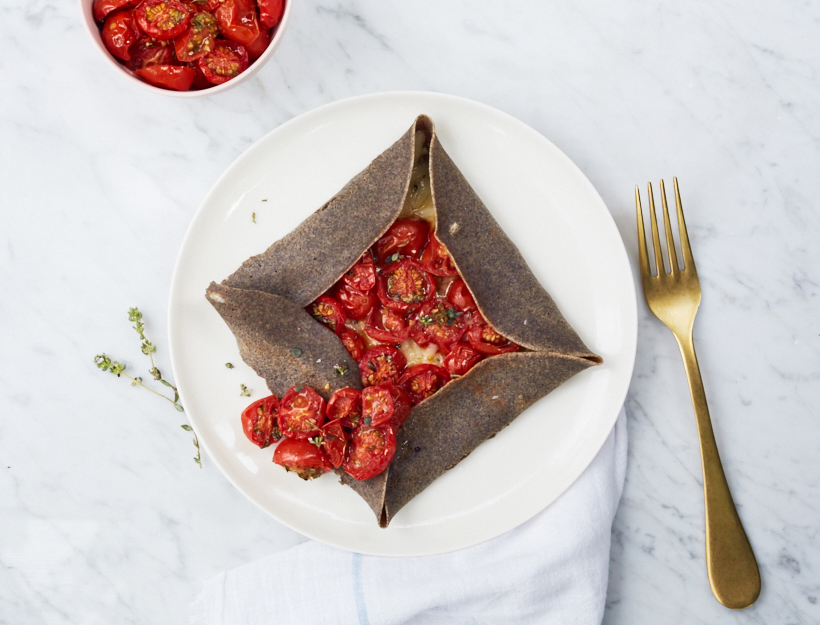 Buckwheat is high in fiber, protein, and magnesium. It's also great for your cardiovascular system thanks to rutin, a flavonoid glycoside with antioxidant and protective properties to support healthy capillary walls and good circulation. If that's not enough, it can also help maintain healthy blood sugar levels.
1. Preheat the oven to 400°F.
2. Place the halved tomatoes on a parchment-lined baking sheet and toss with the thyme leaves, olive oil, and salt and pepper to taste. Roast in the oven for 20 minutes, or until blistered and starting to pop.
3. To make the crepes, whisk together the buckwheat flour, brown rice flour, arrowroot starch, and salt in a medium bowl. Add the milk, egg, and 1 tablespoon plus 1 teaspoon olive oil and whisk to combine.
4. Heat a large crepe pan over medium-high heat. When the pan is hot but not smoking, brush with olive oil and carefully pour in a quarter of the batter, quickly tilting the pan as you pour so the batter spreads out evenly in the pan.
5. Cook the crepe for 1 to 2 minutes on the first side, then flip and cook another minute on the other side. Remove to a paper-towel-lined plate to rest while you repeat the process with the remaining batter.
6. When ready to serve, place one crepe in the pan and turn the heat to medium. Top with ¼ cup of the grated cheese and a quarter of the roasted tomatoes. Cover the pan with a large lid and cook for 1 minute, or until the cheese is melted. Carefully fold up the 4 edges of the crepe to make into a square shape and serve immediately.
Originally featured in Baking (Successfully) with Alternate Flours