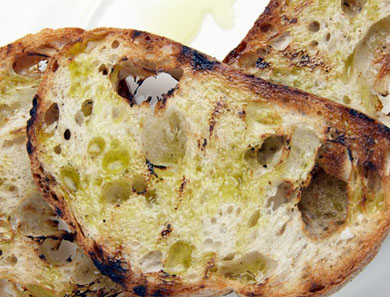 Bruschetta
It doesn't get better than this – the so simple and so perfect taste of freshly grilled bread with great olive oil. Serve with everything.
2 loaves of fresh pane pugliese (or your favorite country-style bread), cut into 3/4″ thick slices
3 large garlic cloves, cut in half
good olive oil
coarse salt
1. Grill the bread over a medium flame for about a minute on each side or until toasted and just barely charred at spots.
2. Rub both sides of the bread with the cut side of the garlic.
3. Drizzle one side generously with olive oil (at least a tablespoon and a half per slice).
4. Sprinkle with coarse salt and serve.
Originally featured in Antipasti