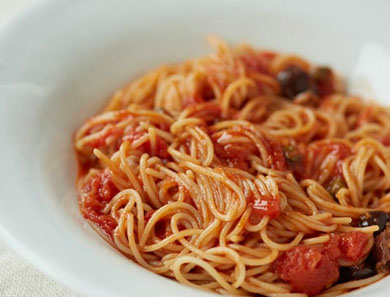 Brown Rice Spaghetti alla Puttanesca
This flavorful tomato-based sauce with just a touch of oil coats the sticky noodles well, and the capers, olives and anchovies stand up to the taste of the brown rice pasta.
1. Bring a large pot of water to a rolling boil and salt generously. Drop in the spaghetti and stir throughout to keep from sticking.
2. Meanwhile, coat a large frying pan with olive oil (about 2 tablespoons) and add the garlic and red chili flakes. Cook until soft and fragrant, about a minute, then add the anchovies and stir until they start to melt. Add the capers and olives, crushing them gently with the back of a wooden spoon. Add the canned tomatoes and bring the heat down to a low simmer. Cook for about 20 minutes.
3. When pasta is al dente, reserve 1/2 cup of pasta water and drain. Add the water to the puttanesca along with the spaghetti. Garnish with parmesan and parsley.
Originally featured in Gluten Free Pasta