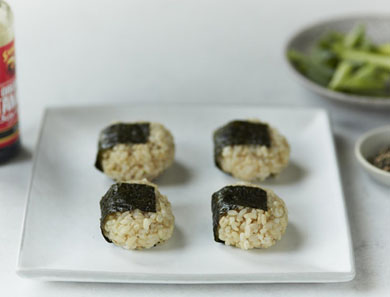 These Japanese fast food morsels are great food on the go, especially if using veggies as the filling.
1. Rinse brown rice and soak for a few hours if you have time. If you have a rice cooker, place rice and water in and cook until nice and sticky. If not, place rice and water in a heavy-bottomed pot and bring to a boil over high heat. Turn down the heat to medium-low, cover and let simmer for about 45 minutes, until the water has absorbed and grains are cooked through. Be sure to keep an eye on the last few minutes of cooking as rice will burn once the water's absorbed.
2. Keep rice covered for about 10 minutes once it's off the heat. Uncover and fluff with a fork. Add the rice vinegar or sushi rice seasoning. Let rice cool before shaping.
3. The easiest way to form the balls is to scoop a palmful of rice into your hand. Wet the fingers of your free hand slightly and make a small dent in the center. Grab your filling and place in the dent. Close your hand to cover the filling and create a ball. Add more rice to keep filling in the center if you need to.
4. With slightly wet fingers, fasten nori strip around the slightly flattened ball.
5. Set balls on serving plate. Sprinkle the furikake and green onions if you'd like and serve with soy sauce, or wheat-free tamari.
Originally featured in Gooping Street Food