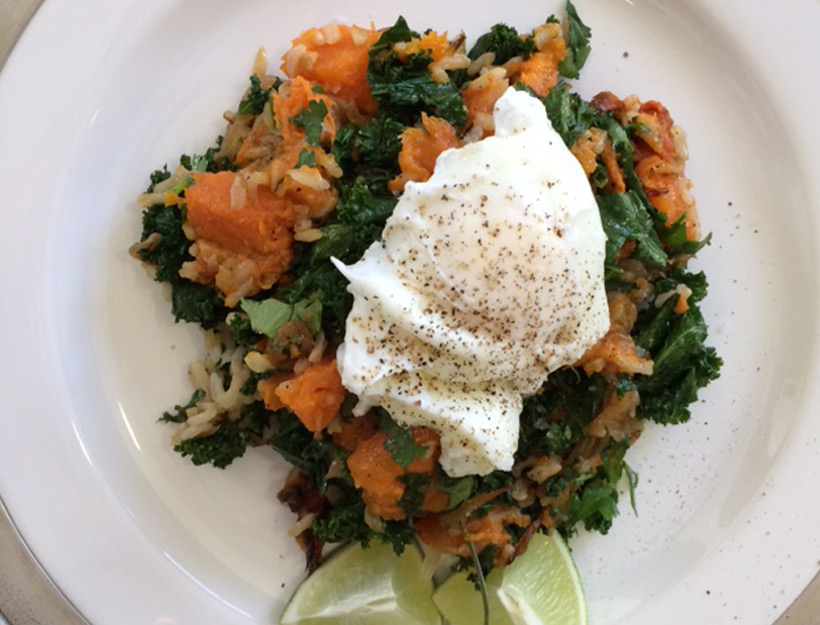 Brown Rice, Kale and Roasted Sweet Potato Sauté with Poached Eggs
Roasting the sweet potato at a high heat really brings out the natural sweetness. If you're making this for dinner, add an extra poached egg to bulk up the meal a bit.
1. Preheat the oven to 450 degrees.
2. Place sweet potato directly on middle oven rack and roast for exactly one hour. When cool enough to touch, pull off skin and cut the flesh into one inch pieces.
3. Meanwhile, heat olive oil in a large sauté pan over medium heat. Add sliced onion and garlic and turn the heat down to low. Cook for 10 minutes, until the onion is very soft and translucent.
4. Turn the heat up to medium high, add the chopped kale, and sauté for five minutes. Add the brown rice and diced sweet potato and sauté for a couple of minutes to reheat everything.
5. Add the zest of two limes, the juice of one lime, and the chopped cilantro. Toss everything together, divide between four plates, and top each plate with a poached egg.
6. Serve with lime wedges (from leftover zested lime).
Originally featured in My $29 Food Bank Challenge