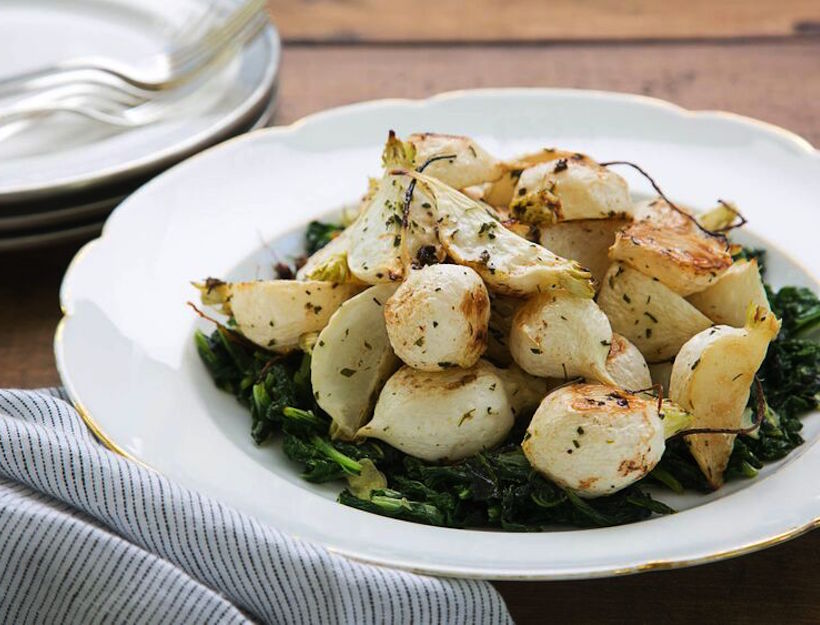 Brown Butter Roasted Turnips and Greens
Turnips are undoubtedly one of the most overlooked root vegetables, and definitely one of our favorites. Here we use baby white turnips, also known as Tokyo turnips, which have tender stalks and leaves that taste great when sautéed with a little olive oil and garlic. If you can't find the Tokyo variety, conventional turnips will work just fine—simply peel and cut into 1-inch pieces before roasting. Serve alone or substitute kale or Swiss chard for the turnip greens.
1. Preheat the oven to 400°F.
2. Trim the greens from the turnips, leaving about ½ inch of the stem on top and reserving the greens. Peel turnips and cut in half vertically (cut any extra large ones in quarters and leave any tiny ones whole).
3. Heat butter in a small saucepan over medium heat just until it starts to turn brown and smell nutty. Pour brown butter over the turnips and toss with thyme leaves, sugar, and salt. Transfer to a rimmed baking sheet and roast in the oven for 30 minutes.
4. Meanwhile, wash, dry, and roughly chop the turnip leaves, discarding any that don't look nice.
5. Heat a large sauté pan over medium heat, add olive oil, turnip greens, garlic, salt, and pepper. Cook 5 to 7 minutes, or until leaves are wilted and stems are tender.
6. Place warm turnip greens on a platter and top with roasted turnips.