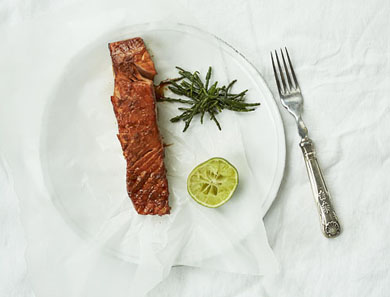 Marinated for a while in balsamic, soy and honey, this is best served with sticky brown rice and dark greens.
1. In a large bowl, add the honey, soy sauce or tamari, balsamic vinegar and a few cracks of black pepper from the mill. Slowly drizzle in oil until all combined.
2. Place salmon filets in a sealable container or a plate that can hold the liquid and pour marinade over the fish. Cover and refrigerate 4-12 hours.
3. When ready to cook, remove fish from marinade and place on a baking sheet. Set broiler to medium high and place fish on the rack second closets to the heat. Cook skin side up for around 2-3 minutes. Turn and cook for another 2-3 minutes. Remove from oven.
4. Serve with half a lime to sprinkle to your liking.
Originally featured in Superfoods