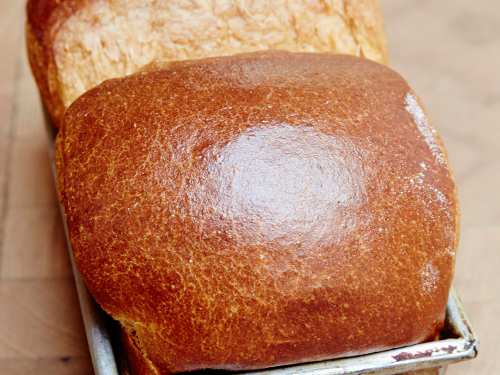 Ok so this recipe is a little time-intensive, but so simple. Who knew? French toast for everyone, courtesy of Chef Zoe Nathan of Huckleberry in LA.
Day 1
1. Slightly warm the milk and pour into the bowl of a stand mixer fitted with the dough hook. Add the yeast and whisk by hand to combine. Add the all-purpose flour, bread flour, sugar, salt, and eggs. Mix on low speed until the dough comes together, 1 to 2 minutes.
2. Increase the mixer speed to medium-high and work the dough for 6 minutes. Pause about every minute to push the dough back down into the bowl and off the hook.
3. Reduce the mixer speed to low and slowly add the butter, a little at a time, over the course of 2 minutes. Pause halfway through to scrape down the bowl and hook. When the butter begins to blend in, increase the mixer speed to medium-high to fully incorporate the butter and bring the dough back together, 4 to 6 minutes longer.
4. Transfer the dough to a greased sheet pan, cover with plastic wrap, and refrigerate for at least 1 hour.
5. Divide the dough into two equal balls, about 11 oz/315 g each. Transfer to a greased sheet pan, wrap in plastic, and refrigerate overnight.
Day 2
6. Grease a 5-by-9-in/12-by23-cm loaf pan. Work with one dough ball at a time. First flatten into a disc, then left an edge and press it into the center. Work your way around the circumference, pressing every edge to the center until you have a ball. Flip the ball over so the pleated side is down and the smooth side is up. Cup the dough in your palm and massage the seam side of the dough firmly against the work surface in a circular motion, allowing the friction to seal the seams. Set aside and cover with plastic wrap or a slightly damp kitchen towel while you shape the next ball.
7. Place the balls into the loaf pan, cover loosely with plastic, and allow to rise in a warm place until more than doubled in size, about 3.5 hours.
8. As the dough nears readiness, preheat your oven to 350°F/180°C. Carefully brush the dough with the egg wash, making sure the egg doesn't pool around the edges. Bake until golden, about 35 minutes. Allow to cool for about 10 minutes in the pan, then transfer to a cooling rack.
For the Egg Wash:
1. Combine the egg yolks, heavy cream, and salt and whisk until homogenous. Refrigerate until needed.
Originally featured in The goop Cookbook Club: Huckleberry